The drive to Milford Sound is one of the most breathtaking roads in New Zealand! Some rent camper vans and spend days exploring the terrain, while many opt for day trips. Here's a breakdown of the top 10 stops along the road, hikes for those who dare, and notes to keep in mind before embarking!
---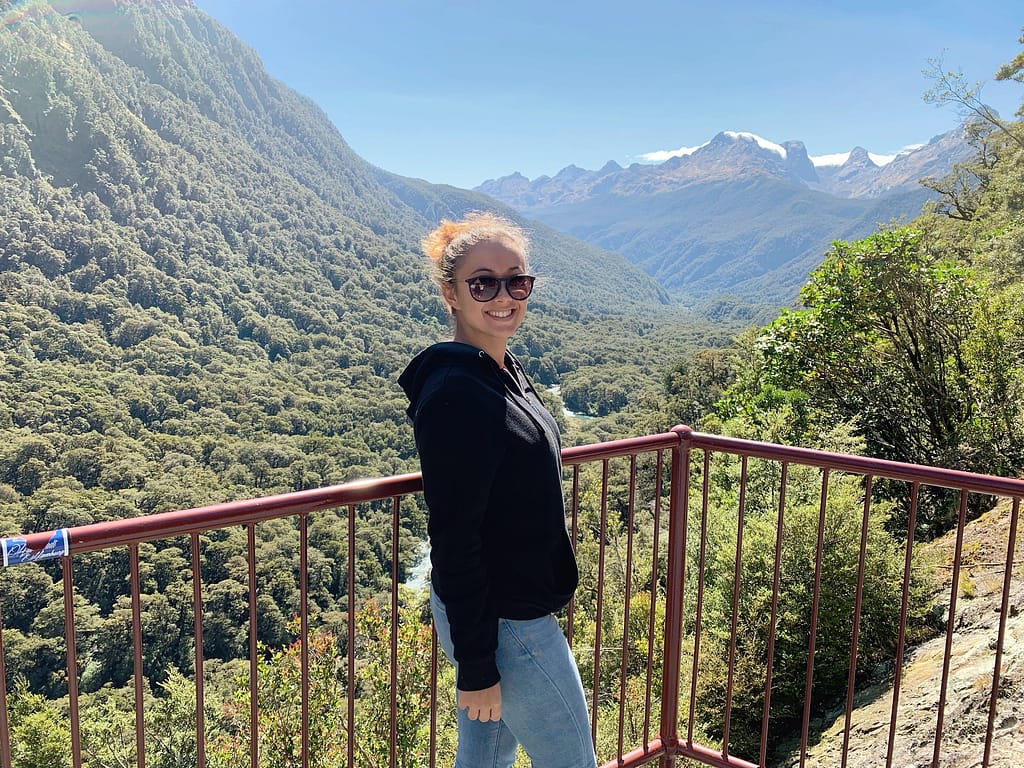 ---
OVERVIEW
Te Anau is where most people stay – it's small, but the closest town to Milford Sound, making the drive much more convenient as opposed to Queenstown (which is a 2-hour drive from Te Anau).
Anticipate a full day! Although Google Maps predicts a 2-hour nonstop drive from Te Anau (74 miles/119 kilometers), there are SO many stops along the way – making the drive last anywhere from 4 to 7 hours. Some places you can admire from the comfort of your car, while others require a bit of exploring.
I highly recommend heading out early. Milford Sound is not something to be rushed! Take your time to soak in the scenery.
The entire road is paved and easily accessible. If visiting during winter, be sure to have snow chains on hand for icy conditions. Before heading out, always check the weather report for any road closures or traffic updates (especially if it's raining). Be cautious at all times! Sounds like a no brainer, but there are several steep cliffs, one-lane bridges, and numerous narrow roads that sometimes appear out of nowhere.
OTHER THINGS TO KEEP IN MIND
Leave with a full tank of gas (there aren't many gas/petrol stations on the road)
There's no cell service along the drive, so download offline Google Maps!
Take a jacket! The cruise on Milford Sound is windy!
Parking at Milford Sound is no longer free. From what I've gathered, it's around $10 an hour.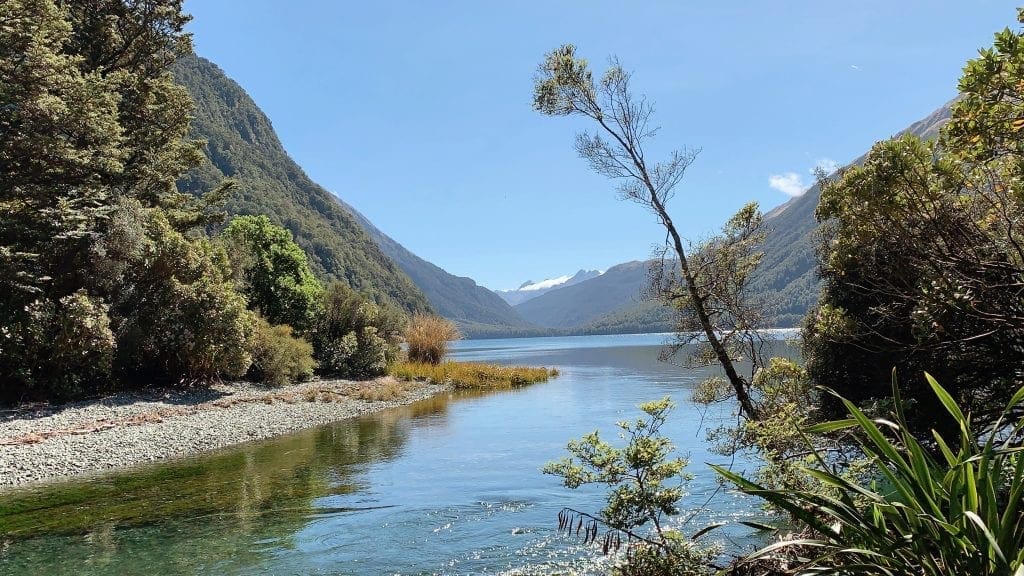 ---
SIGHTSEEING (IN CHRONOLOGICAL ORDER)
While you can pull over at any time to admire the scenery, here are 10 stops to not be missed while making the drive!
1) Te Anau Downs
Here marks the start of a 4-day trek through one of New Zealand's Great Walks. For those not hiking, you can walk onto the dock for a picturesque first photo and admire the calm, clear lake.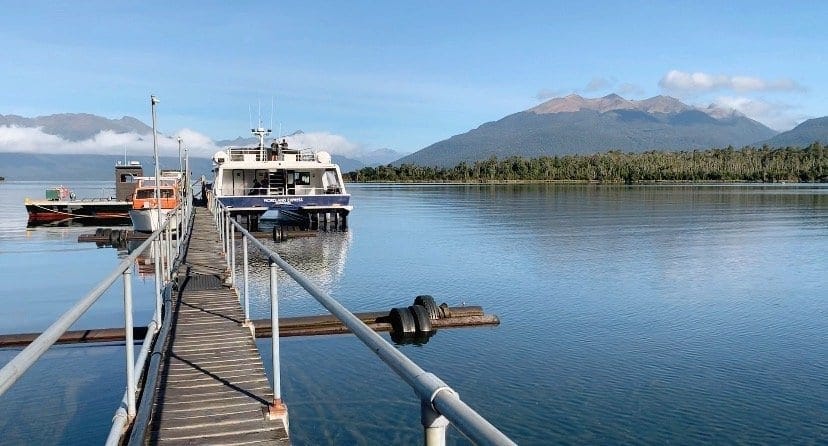 2) Eglinton Valley
Carved by glaciers thousands of years ago, this valley is surrounded by beautiful mountainous terrain. There is plenty of space to pull over without the obstruction of other visitors.
3) Mirror Lakes
This is arguably the most famous stop on the road! On a clear day, the lake reflects an impeccable image of the mountains. The walkway is roughly 5 to 10 minutes, but I stayed for 20 to admire the serenity!
4) Lake Gunn
A perfect break from all that driving! This 45-minute loop guides you through a forest leading out to Lake Gunn, where (like Mirror Lakes) the pristine water reflects the mountains! If you're looking for an idyllic lunch spot, this place is perfect!
5) Pop's View (Hollyford Valley Lookout)
Pop's View is the highest viewpoint on the road that overlooks the lush valley. This was hands down one of my favorite photo spots on the road! I was speechless.
6) Falls Creek Waterfall
For those not wanting to do the 6-hour hike, this stop allows you to admire the vibrant blue waterfall adjacent to the creek. Another incredible photo opportunity!
7) Monkey Creek
Fun fact: the creek water is safe to drink! Though I didn't drink it, I noticed a few people filling bottles with this fresh water. This is also a great spot to see some kea and whio duck (native animals to New Zealand).
8) Homer Tunnel
Homer Tunnel is a one-way tunnel that alternates direction every so often. Depending on traffic, you can anticipate a wait time of up to 20 minutes. So use that time to admire the incredible landscape!
9) The Chasm
This is the last stop before reaching Milford Sound. The 20-minute loop leads you to a waterfall where you'll notice uniquely sculpted crevices. These smoothed carvings were shaped by the force of the Cleddau River over time.
10) Milford Sound Cruise
Last but not least, you MUST ride a cruise into the fjord. You'll be left speechless by the amazing scenery (photos don't do it justice)! Our cruise even got us up close to one of the waterfalls. You can order a cruise ticket ahead of time, however, it's better to purchase one upon arrival so you don't rush through the drive.
---
SHOULD I DRIVE MYSELF OR GO WITH A TOUR?
Each has their pros and cons, but ultimately it's up to your personal preference. I enjoyed going at my own pace and spending extra time at certain places I found relaxing. From what I observed, tours seemed to run on a tight schedule and were relatively crowded.
I'd say if you aren't comfortable driving on the left side of the road, or prefer to take on the journey with others, then a tour would be the best fit! However, if you wish to explore at your own pace, then driving is the better option.
Whichever you choose, Milford Sound will NOT disappoint! This was one of the most incredible places I've visited and will surely be back! Next time – to explore for an extended stay in a camper van.
---
Milford Sound Hikes
Lake Marian Track (3 hour return)
The Divide/Routeburn Track (4 days return)
The Hollyford Track (4-8 day return)
Milford Track (3 day return)
Tutoko Track (5 hour return)
Gertrude Valley (4-6 hour return)
Grave Talbot (3-4 hour return)
---
Further information about Milford Sound
General information about the fjord
Like what you read? Share it to Pinterest!