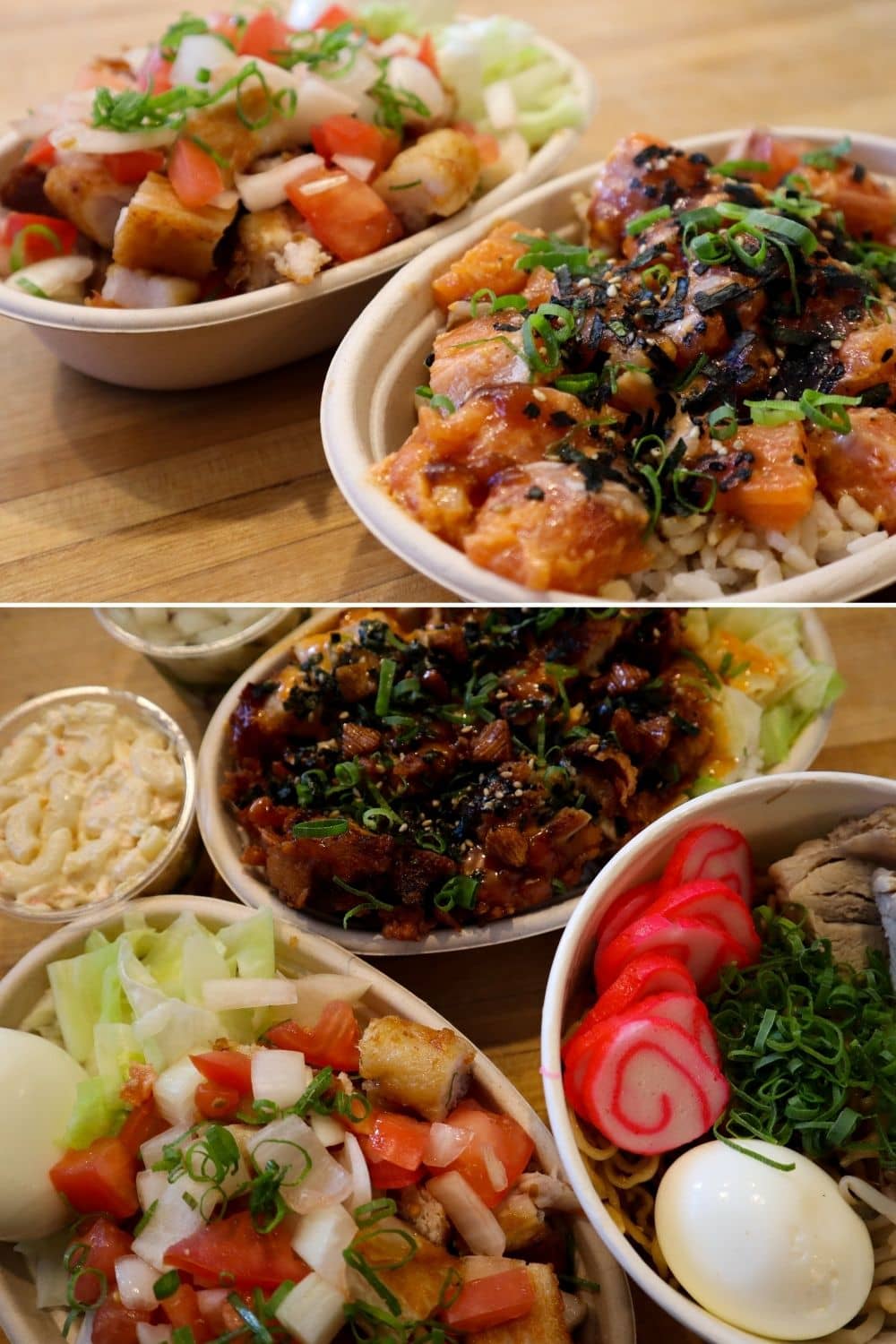 This post may contain affiliate links, which means I'll receive a commission if you purchase through my link, at no extra cost to you. Please read full disclosure here.
Maui boasts of its "onolicious" foods – and as a Maui local, I can't argue with that! From plate lunches to dry mein, Maui has an array of flavorful dishes for everyone to enjoy.
Unfortunately over the last year, I've witnessed many locally owned businesses struggle to stay afloat due to the effects of the pandemic. As places slowly begin to open up, the best way we can offer our aloha is by dining at these local favorites while satisfying our bellies.
Here are 10 locally-owned Maui eateries you can support on your next trip to Hawai'i!
---
1) MAUI FRESH STREATERY
One of the most well-known food trucks on the island is Maui Fresh Streatery. Unlike most local food trucks, Chef Kyle offers a weekly rotating menu showcasing a variety of cuisines including Chinese, Korean, Russian, and the Caribbean – totaling around 25 different menus!
After 10 years of teaching as a culinary instructor at the University of Hawai'i Maui College, he decided to branch out and start his own business.
One of the biggest ways Maui Fresh Streatery gives back to the local community is with their Aloha tip jar. Over the last 8 years, donations have totaled nearly $400,000. Each month, donations go to different local organizations and families needing extra aloha.
Due to the effects of the pandemic, Maui Fresh Streatery halted their bi-monthly menu rotation and input a drive-thru system with strict zero-contact protocols. The food truck now sells chilled meal preps with new menus each week.
Before the pandemic, Maui Fresh Streatery ran Mondays, Wednesdays, and Fridays at various locations around the Kahului/Wailuku area. But for now, you can find them on Fridays from 5-7 PM at 21 La'a St. next to Ultimate Air Trampoline Park.
---
2) HAVENS
A new popular local spot in North Kihei is Havens! Named after his two year old daughter, former hotel chef, Zach Sato, opened the local eatery in December 2020 after experiencing the full effects of the pandemic. His leap of faith practically became an overnight success that still has Maui in a social media frenzy.
Located at the previous spot of the infamous Suda Seafood & Deli, Chef Zach (a Suda's regular growing up) carried on their menu's legacy through Havens. I can attest that locals are thrilled to see an old favorite live on!
One of their famous menu items is the smash burger – a technique of smashing beef onto the grill to sear in flavor and add texture. Havens is also known for their fried noodles, crazy tots (furikake with kimchi sauce), temaki, saimin, and wagyu chow fun.
Everything is cooked fresh to order – even the fries (which are SO GOOD by the way)! So although you may have to wait, you know the food is fresh and hot off the grill, and come on – hot and fresh food is ALWAYS worth waiting for!
Other than cooking local food for the community, Havens has done multiple meal deliveries to homeless camps serving around 60 people at a time. Their next goal is to team up for local causes.
You can find Havens at the old Suda spot, 30 Manao Kala St. Ste 102 in North Kihei everyday from 10 AM to 3 PM. But be sure to call ahead because they sell out quickly!
---
3) TIGHT TACOS
Craving tacos? Tight Tacos is where to go!
Tight Tacos started out in Portland, Oregon serving street-style tacos out of a 4' x 6' food cart on the corner of a liquor store. At the time, finding authentic Mexican street-style tacos in the area was difficult. Thus, the owners took it upon themselves to create their own "street style" vendor much like those in Mexico and Southern California.
One of the owners had a cooking background under Chef Lee Ann Wong, another had a background in marketing and business, and the other "had a way with words". Needless to say, all were obsessed with one thing – tacos.
Aside from tacos, they also serve burritos, quesadillas, and burrito bowls with a wide variety of protein to choose from! They offer carnitas (braised pork), lengua (beef tongue), carne asada (seared steak), camarones (grilled shrimp), pollo pibil (slow roast chicken), rajas (charred poblanos), pescado (seared local fish), and baja fish (battered and fried).
After seeing how hard the effects of the pandemic hit Maui businesses, the owners especially prioritized giving back to the community in multiple ways.
Tight Tacos offered free meals to all keiki (children), food deliveries to kupuna (elders), and local discounts. Although it was an incredibly trying time on the island, local support is what kept them going!
Additionally, their Feed the Beach Campaign uses 100% of proceeds to cook and deliver fresh, hot meals to those living on the streets by Kahului Beach. The team is constantly "cooking up" new ideas for what food to serve next!
Tight Tacos owes their success to Maui's tight-knit community and says it's a privilege to give back to those who help them thrive. To try their flavorful, fresh hand-pressed tacos, head over to 349 Hanakai St. in Kahului, Monday through Saturday from 11 AM to 7 PM.
---
4) NONOY DA POI CASCAROON
If you're anything like me, waiting for special events to roll around just to get your hands on some cascaron is THE WORST. Which is why I'm SO HAPPY I found Nonoy Da Poi Cascaroon!
This food truck started up as a side gig for the owner, Nonoy, in his home kitchen. Since the beginning of the pandemic, he's been regularly making cascaron for his family and friends, experimenting with flavors along the way. As he began to form his own style by adding in poi and other specialties to his recipes, business took off!
His menu includes local favorites including the classic poi cascaron, poi mochi doughnuts, and on occasion, poi malasadas and banana lumpia (my personal favorite!).
Nonoy's uses local ingredients in their menu and also generously donates poi cascaron to various food drives on the island.
Grab these delicious poi cascaron and doughnuts at 2001 Kahului Beach Rd. (look for the white van decorated with cascaron) Monday through Friday from 10:15 AM to 5:30 PM and on Sundays between 3:45 and 8:00 PM. You can also find them at the Maui Sunday Market in Kahului.
And be sure to follow Nonoy Da Poi Cascaroon on Facebook and Instagram @nonoydapoicascaroon to keep up with the newest toppings for their Filipino treats.
---
5) THE EMPANADA LADY
Dreaming of savory flavors of the Caribbean? Look no further than The Empanada Lady!
Born in the Dominican Republic, owner Sara Polanco's business took off after selling empanadas in her hometown, Hana. After selling out within a few short hours, Sara began baking empanadas for nearly 12 hours a day with hungry customers lined outside of her home. Today, her nickname, The Empanada Lady, has become Maui's only Caribbean restaurant nestled in the heart of Old Wailuku Town.
The flavorful menu offers an array of dishes from Puerto Rico, the Dominican Republic, Cuba, and Jamaica. The Empanada Lady proudly uses fresh ingredients to capture that authentic taste along with spices from the Caribbean itself.
This is the perfect spot to sample food from around the Caribbean without even leaving the island! Some of her most popular dishes include: Jamaican coconut curry (my personal favorite!), pernil served in chimichurri sauce (slow roast pork from the Dominican Republic), arroz con pollo (from Puerto Rico), and of course … empanadas!
The Empanada Lady brings life and color to Wailuku town through cultural exchange, opportunities to showcase local musicians, authentic wholesome food, and a soothing ambiance for family and friends to gather.
Stop by The Empanada Lady at 2119 W Vineyard St. in the heart of Wailuku town Monday through Thursday from 11 AM to 3 PM, Fridays from 11 AM to 3 PM, and 5 to 9 PM, and Saturdays from 5 to 9 PM.
Note: Entertainment is provided Friday and Saturday nights by reservation only for those 18 and older.
---
6) 808 ON MAIN
Another locally-owned spot for your everyday comfort food is 808 on Main.
808 on Main serves fresh salads, paninis, sandwiches, burgers, and other signature items such as chicken pesto primavera and mahi-mahi quinoa bowls, all made with locally sourced ingredients. They also have a full-service bar (so if you want that midday pick me up … you know where to go!).
Before 808 on Main launched, the restaurant's sister location, 808 Deli, in Kihei opened 12+ years ago as a more casual, beach, snack-to-go restaurant. The owners then decided to open up a sit-down restaurant and bar with a laid-back "Old Wailuku town" vibe. And in the summer of 2015, 808 on Main was born.
808 on Main not only sources its ingredients locally but also utilizes local vendors for their merchandise and decor. So the next time you stop by for some casual dining, take an extra moment to admire the paintings and learn more about the artists.
Central to Old Wailuku town, 808 on Main is located at 2051 Main St. They're open Monday through Saturday with happy hours from 3-6 PM every Wednesday, Thursday, and Friday.
---
7) SIXTYTWO MARCKET
A newer local favorite with a seasonally rotating menu is SixtyTwo MarcKet!
SixtyTwo MarcKet features innovative, farm-fresh cuisine in a crisp, tasteful, farmhouse atmosphere. Unlike your typical restaurant with a set menu, owners, Chef Marc McDowell and Chef Larry Badua, let their locally sourced ingredients guide their cooking styles. The menu rotates every 62 days based on what's harvesting that season. So in essence, the menu is limitless!
And yes, it's MarcKet – not "market". The name SixtyTwo MarcKet is a play on the restaurant's location (62 N Market St.) and Chef Marc's name. Pretty clever if you ask me!
Chef Marc and Chef Larry are all about sourcing their ingredients from local farms across the island including Kumu Farms, Kupa'a Farm, Ho'omakua Farm, Maui Oma Coffee, Maui Origins Coffee, Maui Cattle Company, Ulupalakua Ranch, Malama Farm, Pauwela Beverage Company, Honey Hale, and so much more!
SixtyTwo MarcKet also sells some of these farmers' products in the restaurant for guests to take home and enjoy!
And they don't stop there! In light of the pandemic, SixtyTwo MarcKet has also participated in various donations and sponsorships to support Maui's healthcare workers. Their drive to source locally and extend a hand to the community clearly shines through all they do.
To get a taste of what's fresh this season, stop by 62 N. Market St. in Wailuku, Monday through Friday from 8 AM to 2 PM, and on Sundays from 9 AM to 1 PM.
---
8) GURI GURI
A timeless mom & pop Maui classic we grew up with and continue to LOVE is Tasaka Guri Guri!
Serving the sweetest, softest strawberry, and pineapple sherbert (with special flavors on occasion), this family-owned and operated business has been a Maui staple for nearly a century! And while others have tried emulating the recipe, nothing compares to THE Guri Guri.
Jokichi Tasaka immigrated to Hawai'i in the early 1920s as a candy maker. He made Japanese confectionery treats such as yokan and manju. Later on, his son Gunji joined him, and in the 1940s, Guri Guri was born.
Guri Guri has always been centrally located in Kahului, starting up on Puunene Ave., and then moving to Kahului Shopping Center where Jokichi and Gunji sold Japanese treats alongside the Guri Guri. They relocated to their present spot at Maui Mall in the early 1970s, only this time sticking strictly to Guri Guri.
Tasaka Guri Guri is such a Maui specialty that it was also recommended to former President Clinton himself!
While on vacation, he stopped by on a whim to taste the refreshing dessert on a hot Maui day. This all happened so quickly that the Tasaka family was notified just 10 minutes before the secret service blocked the street fronting the store.
The generosity and kindness of customers are what keep Tasaka Guri Guri thriving. The Tasaka family is proud and blessed to share this very special, one-of-a-kind dessert with everyone!
Don't forget to add Guri Guri to your Maui foodie bucket list! Stop by the vibrant pink store at Maui Mall (70 E Kaahumanu Ave.) Monday through Saturday from 10 AM to 4 PM.
Note: Guri Guri is only sold at this location. Others have tried imitating the product and using Tasaka's name, however, it isn't sold for anyone to sell at their own shops.
---
9) SALE PEPE PIZZERIA E CUCINA
Hands down the best Italian food on the island is found at Sale Pepe Pizzeria e Cucina! Sale Pepe has easily become one of my new favorites! In fact, I've eaten there three times within the last month alone (oops)!
Tucked near the entrance of Lahaina town's infamous Front St., Sale Pepe invites you into their warm atmosphere for a night of wine, good company, and of course – savory Italian cuisine! Their pastas and artisan pizzas boast of fresh flavor made with locally sourced ingredients complimented by spices and delicate meats from Italy!
I'm not exaggerating when I say everything is amazing – I literally have zero complaints about the food (and this is coming from a picky eater)!
Owners Qiana (from Brooklyn, New York) and Michele (from Milan, Italy) met at a New York eatery and bonded instantly. After a trip to Maui, they knew this is where they belonged. So they sold their Brooklyn restaurant and opened up Sale Pepe in Lahaina to share their love of true Italian food and culture with the island.
Is it worth the hype I'm building up? ABSOLUTELY. They've been consistent winners of Maui's 'Aipono restaurant award for best Italian and best new restaurant.
Support this locally owned authentic Italian restaurant everyday from 5-8 PM at 878 Front St. in Lahaina!
---
10) TIN ROOF
Local comfort food prepared by a two-time Top Chef finalist? Yes please!
Owned and operated by internationally recognized Chef Sheldon Simeon, alongside his wife, Janice, this dynamic duo is well-known across Hawai'i for their take on local cuisine.
Tin Roof serves to-go plate lunch favorites including mochiko chicken, roasted pork belly, fat chow fun, saimin, garlic noodles, poke bowls, and much more! Whether you're in the car, relaxing on the beach, or grabbing something quick on your lunch break, Tin Roof's "kau kau tins" are perfect for our "on-the-go" lifestyles. In fact, they sell over 300 bowls of their most popular dish, mochiko chicken, a day!
The name, Tin Roof, was inspired by the garage parties ("ga-ragers") at Chef Sheldon's home in Hilo, Hawai'i. Whether it was a birthday or holiday, most time with friends and family was spent under that tin roof, where Hilo's rain serenaded those gatherings.
Chef Sheldon has worked in culinary for over a decade starting from humble beginnings. From being a dishwasher at Aloha Mixed Plate, becoming chef of Star Noodle, and cooking at Leoda's for 10 years, to becoming a finalist (TWICE) on Top Chef, and opening up a restaurant at the Wailea Beach Resort and Lineage in Wailea, Chef Sheldon certainly knows the ins and outs of running a successful restaurant!
So what makes Tin Roof so special to Maui's community?
Chef Sheldon had been an avid customer at Koko Ichiban Ya, the previous restaurant of Tin Roof's location. He'd stop by frequently for their chicken katsu curry, nishime, and spicy chicken. During their last year of operation, he received a phone call about an opportunity to take over the spot. Inspired by their bento shop, he decided to open Tin Roof in a similar take-out fashion.
Unlike his other restaurants that draw the tourist population, Chef Sheldon loves that Tin Roof is a spot to feed and build relationships with the local community.
Tin Roof is constantly making donations to local organizations. Recently, they donated "kau kau tins" to Feed My Sheep. During the pandemic, they also went into the community to help feed senior citizens warm meals. Chef Sheldon also spends time chatting with culinary students at Maui High School and encourages them to pursue their passions of entrepreneurship.
Chef Sheldon recently came out with a new cookbook, Cook Real Hawai'i, showcasing the diverse cuisine and cultures of Hawai'i. Each recipe has stories about his upbringing that locals can relate to, and those out of state can get an in-depth look at.
Be sure to follow Chef Sheldon on Instagram and Facebook, where he talks about Hawai'i's food and culture on bi-weekly lives with Top Chef friends and other special guests!
And to get a taste of this local eatery, stop by 360 Papa Pl., Ste. 116 in Kahului Tuesday through Saturday from 10:00 AM to 8:00 PM.
---
WHEW! What a list! Is your mouth watering yet? Because mine sure is!
Like what you read? Save it for later!