With so many flavors of Thai street food to sample across the country, how can you be sure you aren't missing out on the best of the best? Knowing which foods to be on the lookout for is key to satisfying your taste buds on a backpacker's budget.
Whether you're sampling street food or enjoying a nice meal at a restaurant, here are the most popular Thai dishes you MUST try on your trip to Thailand (and a few tips at the end that'll enhance your eating experience!)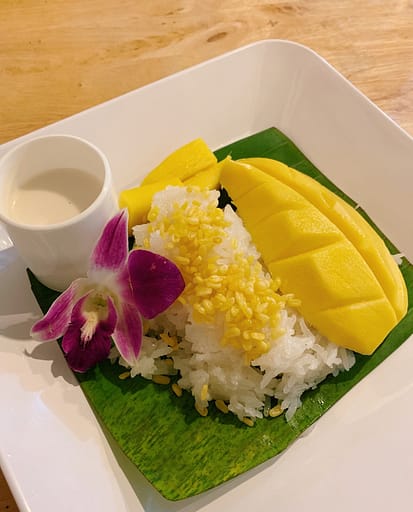 ---
Som tam (Green papaya salad)
We're kicking off this list with a simple dish that's a local favorite (and my personal go-to for lunch)! Som tam typically includes shredded green papaya, tomatoes, carrots, Chinese long beans, peanuts, fish sauce, brown sugar, and chilies.
You'll find this at most markets and any restaurant between 40 and 80 baht ($1.20 to $2.50 USD).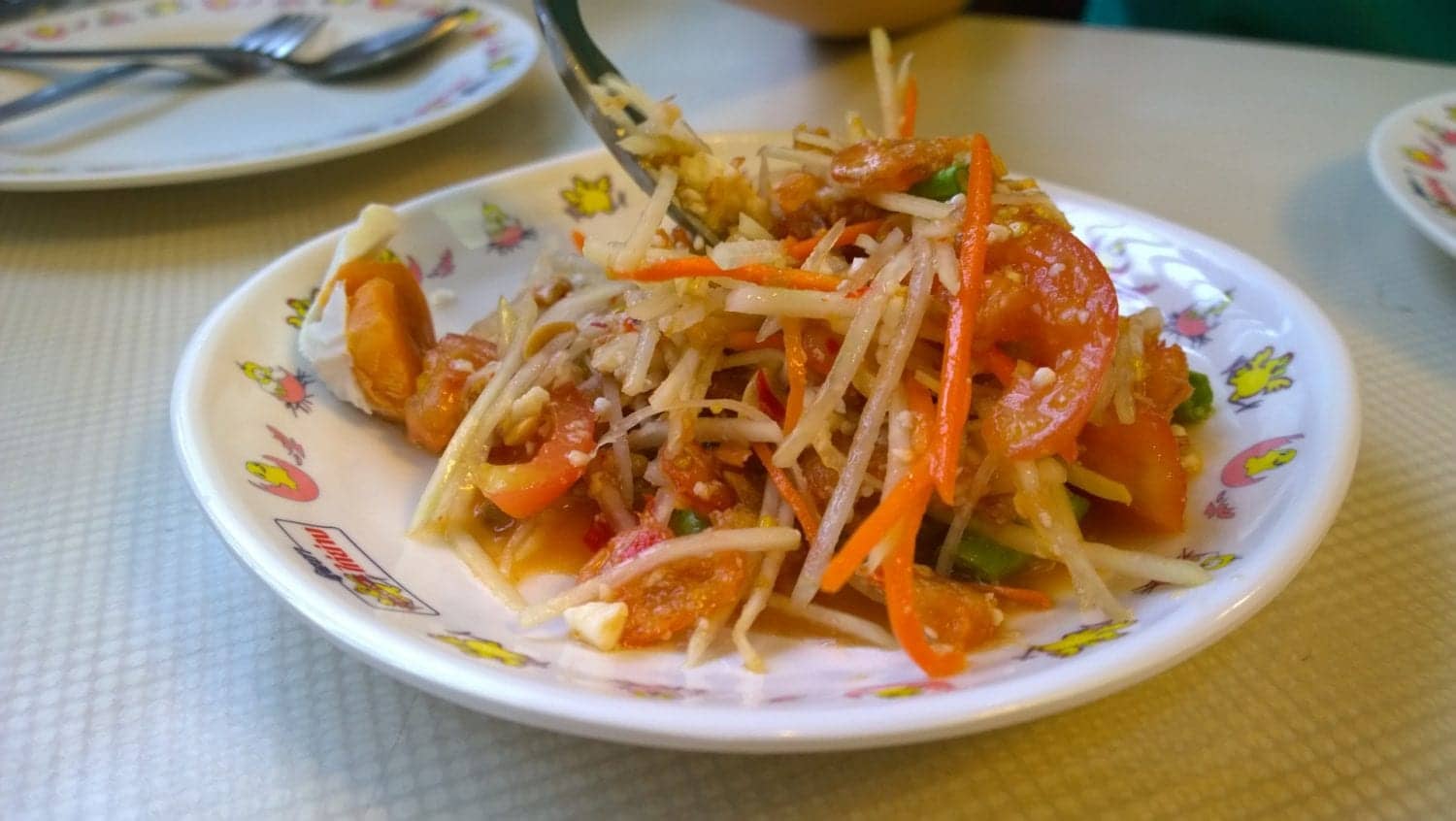 Khao Pad Sapparod (Pineapple fried rice)
Fried rice served in a pineapple – a popular choice among visitors. Not only is it aesthetic (always an Instagram-worthy pick!), but the variety of sauces used in this are what make it so flavorful.
Khao Pad Sapparod is sold at most Thai restaurants in tourist hotspots between 200 and 400 baht ($6.50 to $13 USD).
Pad Thai (Fried noodles)
This classic is THE street food of all Thai street foods! Pad Thai can be found anywhere virtually anywhere from street stalls to high-end restaurants. Rice noodles are stir-fried with peanuts, egg, tofu, shrimp, onion, and bean sprouts. Top this with a hint of lime!
Depending on the type of pad thai (shrimp, vegetable, chicken) you can expect to pay between 40 and 80 baht ($1.20 to $2.50 USD).
Pad See Ew (Flat fried noodles)
Another Thai street food that has a soft spot in my heart is pad see ew. Cooked with chicken, green vegetables, and egg – you can't go wrong with this. Fun fact: if nearby restaurants are closed, pick up some pad see ew at your nearest 7/11 (it was surprisingly good!)
You can find Pad See Ew at markets and Thai restaurants ranging anywhere from 60 to 100 baht ($2 to $3.50 USD).
Khao Soi (Coconut curry noodle soup)
Khao Soi is one of the BEST meals you'll have in Thailand! This gem can only be found in Northern Thailand (specifically Chiang Mai) and is known for its off-the-chart spice. The curry is what truly makes this a staple to Northern Thailand.
Khao Soi can be found at just about any Thai restaurant in Chiang Mai between 80 and 150 baht ($2.50 to $5 USD).
Tom Yum Soup (Hot and sour soup)
Originating in Central Thailand, tom yum soup has risen to fame around the world. Consisting of lemongrass, fish sauce, lime juice, shallots, and shrimp, this soup will set high standards for flavor while you're visiting Thailand.
You'll find this at any Thai restaurant across the country between 80 and 200 baht ($2.50 to $6.50 USD).
Pad Kaphrao (Stir fried pork)
Another simple Thai meal popular throughout Thailand (and perfect for us solo budget backpackers) is Pad kaphrao. Minced pork is stir fried with basil, fish sauce, sugar, and of course – chilies!
Try this at any Thai restaurant between 40 and 80 baht ($1.20 to $2.50 USD).
Massaman Curry (A rich, sweeter curry)
Hands down my FAVORITE curry in Thailand! As someone who can't handle spicy, this curry was perfect – sweet and savory with a hint of cinnamon.
You can taste this at any Thai restaurant ranging from 80 to 150 baht ($2.50 to $5 USD).
Panang Curry (A thick, sweet and salty curry)
If you're looking for a sweeter red curry, this is the one to order! Panang curry has an additional ingredient that makes it unlike the others – peanuts. Contrary to what many believe, red isn't the spiciest curry – it's actually green!
This curry can be found across the country at any Thai restaurant from 80 to 150 baht ($2.50 to $5 USD).
Pad Pak Boong (Stir fried morning glory)
Pad pak boong is one of the healthier options you'll find in Thailand. The morning glory (water spinach) is fried with a variety of savory sauces, and is served with rice and an abundance of chilies! Although this isn't as popular as pad thai or panang curry, it's still worth a try!
And best of all, it's one of the cheapest meals out there (anywhere from 40 to 80 baht or $1.20 to $2.50 USD)!
Chicken Cashew
Easily one of my favorite meals in Thailand, chicken cashew is a savory dish consisting of golden brown chicken, crispy cashews, caramelized onions, peppers, and a spicy sauce! If you had to pick only a few meals to try in Thailand, this would make that list!
You'll find this at many Thai restaurants between 60 and 150 baht ($2 to $5 USD).
Tom Kha Gai (Coconut curry with chicken)
Similar to tom yum, it's a hot and sour soup, however, tom kha gai is blended with creamy coconut milk, toning down the level of spice. If you're anything like me and can't handle a lot of spice, then this is a perfect option!
Order some tom kha gai at any Thai restaurant between 80 and 200 baht ($2.50 to $7 USD).
Roti (crepe)
If your sweet tooth needs a quick fix, try some roti! Watch the crepe prepare before your eyes – golden to a crisp with bananas and any other topping you desire! The most common combination is banana with nutella – I highly recommend it!
Enjoy this sweet treat at markets and food vendors for around 20 to 50 baht – not bad for a late night snack ($0.65 to $1.50 USD)!
Mango Sticky Rice
And of course, I saved the best for last. No trip to Thailand is complete without eating mango sticky rice to your heart's content! Mango sticky rice is a crowd favorite consisting of mango, glutinous rice, and yellow mung beans drizzled with coconut milk.
You can find this anywhere from street stalls to restaurants between 50 and 100 baht ($1.50 to $3 USD).
---
Tips for the best eating experience!
Sugar is one of the most common ingredients in Thai cuisine! You can always ask them to prepare your meal without sugar. Check out my previous post for useful phrases when ordering food in Thailand.

Thai food varies across the country (and even restaurant to restaurant!), so dishes in Chiang Mai may not be served the same as Phuket. And keep in mind, each region has its "staple" food items (such as khao soi in Northern Thailand) that you can only find in that area!

Many Thai dishes contain a good amount of oil. If you're someone who needs to carefully watch oil intake for health purposes, please be mindful of this when it comes to ordering food! Restaurants typically have menu items that cater to dietary restrictions.

Stay on the safe side and order your food less spicy! Even if you know you can handle the spice (Thai food in Thailand is MUCH spicier than Thai food elsewhere), it's safer upon arrival to ask for less. You can always add more once your food arrives (and it's more respectful than asking them to remake an entire dish). If you're a seasoned pro with Thai food, go for it!
---
Like what you read? Share it to Pinterest!