This post may contain affiliate links, which means I'll receive a commission if you purchase through my link, at no extra cost to you. Please read full disclosure here.
Budget travel may seem intimidating, but psst! It's a lot easier than you think with these nifty tools! Keep this list readily available for your next trip abroad!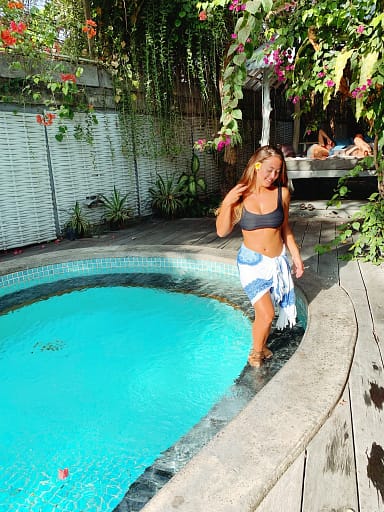 AND if you're new to solo budget travel, check out Sunsets Abroad's (Christine's) guide to rocking your first solo trip!
---
1) Digital Luggage Scale
Hands down, this is one of the BEST purchases I've made. I owe my past travel headaches to not owning this beforehand.
This digital luggage scale is SO lightweight, compact, and your best friend for budget travel. Having this scale will seriously save you SO much stress! No more guessing the weight of your luggage or hoping your hostel has a working scale.
Airlines' baggage policies vary tremendously, so always check them ahead of time (ex. size restrictions, 7 kg for all carry-ons combined, etc.). Click here to read about my mistake that cost me $250 USD (and made my wallet CRY).
---
2) Hanging toiletry bag
I've gone through a few toiletry bags, but this is the most durable and space-efficient. I especially love the slim side pockets that keep your makeup brushes enclosed and secure. The material is also water-resistant, which is a HUGE PLUS for budget backpackers staying at hostels.
Every toiletry bag I've used smelled from constantly getting damp. Many hostel showers don't have much space to hang your bag, so this particular bag's water-resistant material and durability are well worth the investment!
---
3) Scrunchies with a hidden zipper
These scrunchies are a literal life hack! If you're exploring the city, but want to be hands-free, these scrunchies help you do just that! They're large enough to fit cash, coins, keys, chapstick, and any other travel-sized items. Your belongings are kept safely in disguise! I mean, who'd think to steal a scrunchie off of someone's head?
Especially if your clothing doesn't have any pockets, this is a great accessory to have. And of course, the elastic is durable (trust me, I have really thick hair). These scrunchies to keep my hair much more secure than others you'd find at Target or Walmart.
---
4) Pocket sized soap sheets
If by chance a restroom is out of soap, these soap sheets will save you! Just lather one under water and you're good to go. You can never go wrong with having soap readily available!
---
5) Face mask extender straps
You can never have too many face masks these days, but what if they don't fit well? That's where these guys come in handy. These clasps are perfect for adjusting the fit of your face mask. They also relieve any pressure or discomfort off of your ears.
---
6) Travel sized laundry detergent
When it comes time to wash your face mask, these travel-sized detergent packs are just what you need. They're premeasured and can be used for all fabrics in a traditional washing machine or sink.
A little hack for budget backpackers: because the detergent is pre-measured for normal-sized loads, you can use one packet to wash several face masks at once.
---
7) AirPods Case
What is an AirPods case doing on this list? Hear me out! When you're backpacking, there are a million things crammed into your bag. Having this snug silicone case makes your AirPods easy to spot in a sea of belongings.
Plus, you can attach the included snap hook directly to your backpack. This ensures your AirPods are safely secured to your bag, eliminating the fear of losing them.
---
8) A variety of mesh bags
I've traveled with and without mesh bags and believe me when I say they make ALL the difference! Organizing your belongings is so easy with mesh bags, especially when it comes to socks, bras, and underwear. You can also use these to keep your dirty laundry separate.
Organization is one of the biggest challenges of traveling, and these bags make it 10 times easier. Without the mesh bags, my belongings were always a mess, no matter how many times I re-organized my bag. These helped tremendously!
---
9) Protective electronics case
Having an electronics case keeps them organized and well-protected in your luggage! The pouch on the left has a hard protective case, a sleeve for an external battery pack, and a pocket to store smaller items. The case on the right is highly rated on Amazon for offering lots of space for travelers carrying more electronics.
I've used regular pouches in past travels, but my headphones and chargers always ended up tangled. These cases will keep your electronics compact, safe, and well organized.
---
10) Velcro wraps
I've started using these and they've saved SO much time untangling the giant mess of cords (especially when I'm on the plane getting my earphones out). Keeping them neatly tied also prolongs the life and quality of your earphones and other chargers.
---
11) A durable, organized makeup case
If you travel with a good amount of makeup, you'll need this case! Your brushes are stored separately and are securely strapped, and the inner dividers keep your makeup organized into different compartments.
Because of this organization, your makeup stays clean! When I stored all my makeup in the same bag, the residue from my brushes got all over the products and stained the pouch. This purchase is amazing if you're looking to stay on top of your makeup organization while traveling!
---
12) A secure travel tote
Tote bags are my go-to for budget travel, but I've always had trouble keeping them balanced on my suitcase. This tote bag pairs perfectly with any suitcase! Not only is it durable, but it comes with a pocket that slides over your suitcase's handles. This way, your bag stays put and doesn't fall off.
There are so many designs to pick from! This tote bag is definitely a must for travelers wanting a cute, reliable carry-on to fit seamlessly atop a suitcase.
---
13) A footrest for the plane ride
Discomfort is the bane of long plane rides! Luckily, this footrest adds a bit of comfort by helping you sprawl out a bit more. Just attach it to the tray table, and you'll be in for a much comfier flight. This is also a great purchase for those prone to swelling.
This has adjustable straps so anyone can get their perfect elevation. Plus, it's light and compact – the primary criteria of budget travel.
---
14) Reusable shoe bags
Typically, I reuse plastic bags to wrap my shoes when I travel, but lately, I've been wanting to find something that's eco-friendly. These shoe bags are reusable, lightweight, durable, and water-resistant!
Not only can they be used for shoes, but they can also store towels, clothing, and other toiletries. This is well worth the purchase!
---
15) A quick-dry beach blanket
I'm a HUGE beach bum, and one of the hardest parts of packing was fitting a beach towel. Most hostels only provide you with one towel to shower with, and they're strict about not using them at the beach. Having this beach blanket, that's not only insanely compact but water-resistant, is a must for all beach-goers. If you're going to be visiting a beach often, definitely be sure to have this on your packing list.
---
Like what you read? Pin it for later!