No trip to Thailand is complete without exploring Bangkok! The capital city has so much to offer as Thailand's central hub for all interests including temples, nightlife, and street food.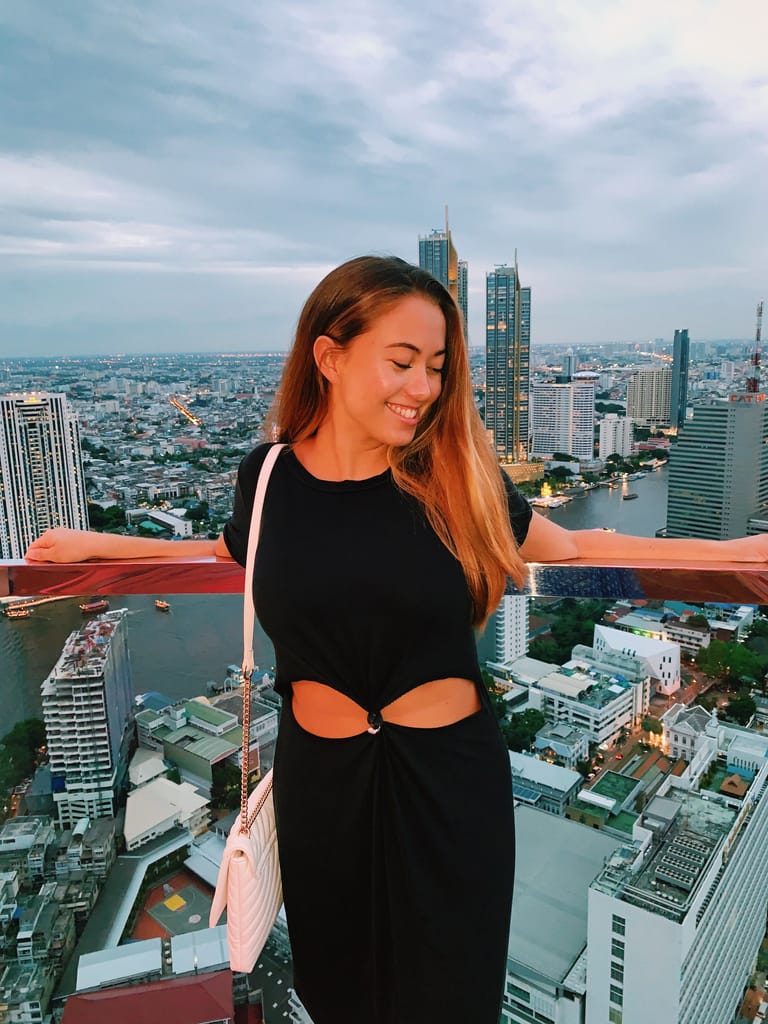 Here is the DREAM bucket list that will take all you budget travelers off the beaten path and show you the best things to do in this lively city.
And while you're in Thailand, consider country-hopping around Asia while you're there! Here are 40+ best places in Asia to add to your bucket list – have fun!
Enjoy a crab omelet from Raan Jay Fai (featured on Netflix's Street Food)
Need I say more? Chef Jay Fai's Michelin Star restaurant was featured on Netflix! She personally prepares each dish herself and is known for her delicious crab omelets.
The menu is pricier than what you'd typically pay for Thai meals in Bangkok, ranging from 500 to 1500 THB ($16 to $48 USD) as opposed to 100 to 300 THB ($3 to $10 USD). As a budget traveler, it may not seem like the most practical way to spend money on food, however, it's definitely worth treating yourself to a meal here!
Address: 327 Maha Chai Rd, Samran Rat, Phra Nakhon, Bangkok 10200, Thailand
Visit the ancient capital of Siam – Ayutthaya
Ayutthaya, the ancient capital of Siam, is a day trip full of rich history and incredible ruins. If you visit Wat Pho, you'll see the influence Ayutthaya had on its architecture (Ayutthaya is also the original home for some of Wat Pho's structures). For all you history buffs out there (and travelers looking to escape the city for a day), this is the place for you!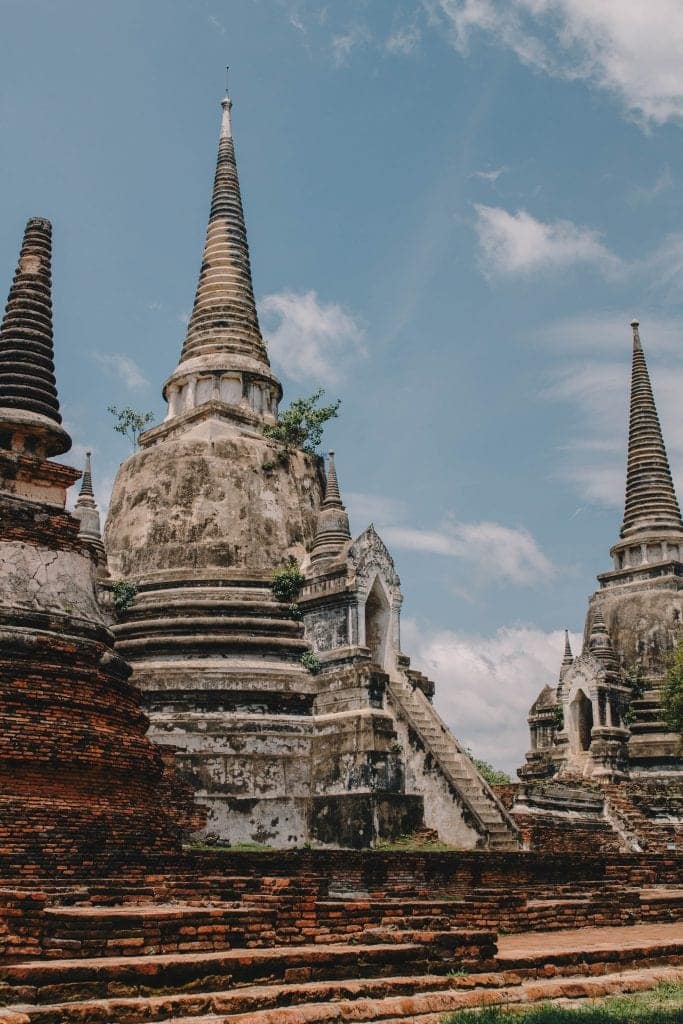 Ancient Siam
Just outside of Bangkok in Samut Prakan is Ancient Siam, a museum park designed in the shape of Thailand. The replicated temples are laid out geographically, so you can get an essence of all temples across the country – perfect for those on a time crunch! Plus, Ancient Siam makes for a great Instagram spot! Check out my friend Katie's pic below!
#FindTheLockerRoom
Set off in search of the Locker Room, a speakeasy in Soi Thonglor (that's the only hint you'll get from me!). I won't disclose its exact location – that's the fun in finding a speakeasy! But once you do find it, enjoy a beautifully crafted cocktail. Their menu centers on the theme "Past, present, and future".
Admire Wat Samphran
Another underrated spot on the outskirts of Bangkok is Wat Samphran – a towering pink temple with a massive dragon wrapped around it. This is hands down one of the most unique temples you'll find in Thailand! Walkthrough its spiraling tunnel to reach the top for animal sculptures (that have significant meaning in Buddhism) and some cool views.
Wat Samphran is a great spot for travelers looking for Bangkok's unique finds without the worry of large crowds.
Head over to Wat Saket
Wat Saket, the highest temple in Bangkok, dates back to Ayutthaya times and is known for its 80-meter golden mount. If you're visiting during Loy Krathong (sometime in November), be sure to stop by to see the hundreds of beautifully laid out offerings!
Experience a floating market
Let curiosity guide your adventure just outside of Bangkok to some floating markets, an icon in Southeast Asia. Why shop at a regular market when you can have a completely unique experience shopping from boats? The closest one to Bangkok is Taling Chan, and two other popular markets are Damnoen Saduak and Amphawa (in Samut Songkhram).
Head over to the Maeklong Train Market
Located near the floating markets in Samut Songkhram is the Maeklong Train Market – another shopping experience unlike any other. In the midst of shopping, you'll see everyone quickly break down for trains to pass directly through (8 times a day, 7 days a week).
Fun fact: The market was built before the railroad and instead of relocating, vendors decided to simply readjust business and work cohesively with the train's schedule.
Bangkok's abandoned skyscraper
This one's specially reserved for the adventurous (enter at your own risk). Once you pay the guards to enter, you're free to roam this abandoned structure and admire some incredible views of Bangkok. If you visit, use extreme caution, as it's an unfinished building. What was supposed to be a condominium built in the late 1990s, ended up remaining unfinished due to the Asian financial crisis in 1997. The skyscraper still stands at 80% completion, and those who dare, explore the building.
Explore Bangkok's airplane graveyard
Looking for a spot completely off the beaten path in Bangkok? Head over to the airplane graveyard! You can explore the remnants and get some cool Instagram shots while you're there. Before heading over, read this article for specific details on what to expect when visiting the airplane graveyard.
Have a drink atop Sky Bar (Lebua Tower)
Made famous by The Hangover, Sky Bar is the most popular rooftop bar in all of Bangkok. Catch the best view of the sunset overlooking the city while sipping a fancy cocktail. Dress up for the occasion and treat yourself for the night! Nothing beats those city lights glistening beneath.
Drinks range from 600 to 900 baht ($20 to $30 USD), which can seem intimidating (for me at least!) but after all your budget backpacking, you deserve to treat yourself! Sip a cocktail and enjoy the night.
Experience the nightlife of Patpong
Looking for a nightlife scene? Patpong is an entertainment district comprising shopping stalls, bars, clubs, and drag shows. My all-time favorite was The Stranger Bar – the BEST drag show I visited in Thailand!
Attend a Muay Thai fight or take a Muay Thai class
How cool is it to witness a Muay Thai fight where it all began? Numerous stadiums in Bangkok showcase fights multiple times a week, so don't miss out on the opportunity! And while you're in Bangkok, sharpen your skills with a Muay Thai class. Click here to learn about the top 5 stadiums.
Explore The Grand Palace & Wat Phra Kaew
The Grand Palace and Wat Phra Kaew are the most noteworthy attractions in Bangkok. Located on the same premises, The Grand Palace is the previous home to former Thai Kings and consists of impressive temples, courtyards, and halls. Wat Phra Kaew is home to the Emerald Buddha, and although pictures aren't allowed inside, it is definitely one of the most beautiful temples you'll visit in Thailand.
Take a traditional Thai cooking class
Take a break from sightseeing and learn how to prepare a variety of authentic Thai meals using fresh, local ingredients! Whether you're making pad thai, som tam, or khao pad, cooking traditional Thai dishes from the experts is not to be missed by any solo traveler.
Ride a tuktuk
Tuktuks are a common form of transportation and are especially convenient when traveling shorter distances. Riding one is bucket-list-worthy for all first-time visitors in Thailand! Don't be afraid to bargain prices (especially if you're a budget backpacker) and enjoy the ride!
Ride in a river taxi
Bangkok's alternative mode of transportation carries you across the Chao Phraya River without the headache of city traffic. As a budget traveler, this is a great money-saving method AND you can catch some cool glimpses of Bangkok!
Admire Wat Arun's unique architecture
Known as one of the most beautiful temples in all of Thailand, Wat Arun is easily distinguished for its unique architecture. The temple is intricately designed with colored glass and Chinese porcelain with a spire that stands over 70 meters high. For optimal viewing, visit in the morning or late afternoon to see it gleam with the sun behind (and with a much smaller crowd).
Shop til you drop at Chatuchak Weekend Market
With over 10,000 vendors, Chatuchak is your one-stop to finding everything from elephant pants and off-brand clothing to food vendors and curry shops! Virtually anything and everything you need can be found here. I recommend setting aside a solid chunk of time to wander this massive market.
Beware of the live animal section of the market! If you're sensitive to that nature, avoid zones 9, 11, 13, and 15 (next to the furniture).
Visit the reclining buddha at Wat Pho
Wat Pho is the oldest temple in Bangkok and home to the giant reclining buddha. This buddha lies 46 meters long and is completely covered in gold leaf! Its reclined position represents Buddha's last moments on Earth before entering parinirvana. And the coolest part? Around the temple grounds are artifacts and statues from Ayutthaya (capital of ancient Siam) following the Burmese invasion.
Bonus – you can also get one of Thailand's best massages for 250 baht at Wat Pho's massage school!
And of course … Khao San Road
No traveler's Bangkok bucket list is complete without Khao San Road! Arguably the most popular stop for backpackers in Bangkok, Khao San Road is filled with party hostels, souvenir shopping, upbeat bars, and iconic Thai food. Although it's a tourist hotspot, this place is a must for first-time travelers! While you're there, try some fried insects, durian, and other unique foods. You'll run into carts selling jackfruit, alligator, silkworms, spiders, and scorpions.
---
Like what you read? Save it for later!