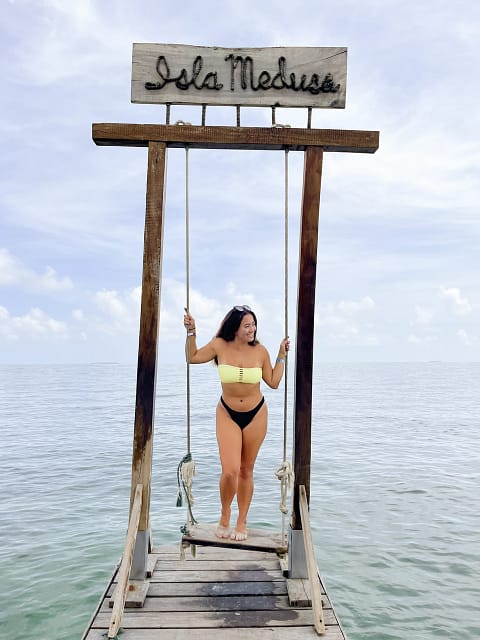 Islas del Rosario – an archipelago just off the coast of Cartagena known for its clear, vibrant water, white sand, and thriving ecosystems.
As a Hawai'i girl, I KNEW Islas del Rosario was a must – if I can swim in a body of water while traveling, I absolutely will. But truth be told – the best beaches aren't actually in Cartagena. You'll see plenty of people (along with several docked boats) along the shorelines of the city, but they're often crowded and overrun with vendors.
If you're envisioning that white sand and crystal blue water, a trip out to the islands is needed, making Islas del Rosario one of Cartagena's biggest tourist destinations. As you wander through the walled city (La Heroíca), you'll find dozens of tours enticing you with a boat ride out to Islas del Rosario.
We debated between staying a few nights or making a day trip out of Islas Del Rosario. Ultimately, we went with a day trip due to time, and even though we lowkey got scammed, I thought it was the best option for us.
---
CONSIDER THESE ↓ (tour: Eco Hotel Luxury)
After watching videos presented by a travel agent, we went with Eco Hotel Luxury.
BEFORE BOOKING – if you do a quick Google search, you'll see they have amazing ratings on Google, but not TripAdvisor, and I know exactly why. On the island, if you show the bar a 5-star Google rating, you'll get a free drink. But is it really worth those 5 stars?
Naturally, we didn't believe everything we were promised from the travel agent, but we remained hopeful. Even with empty promises throughout, I tried to make the most of our day trip & keep a positive attitude since it was our only time on the island.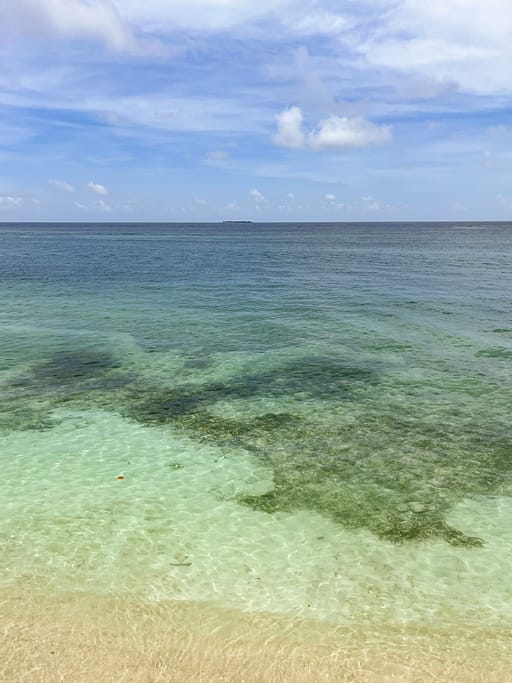 We arrived at the dock at 7:30 AM sharp and were told the boat leaves on time … at 8:30 AM that is.
Here's what we were promised
All-inclusive drinks
Snorkeling and stand-up paddle boarding
No ID's required
Lunch
And here's what we got
All-inclusive (watered down) limonada de coco's (all other drinks had to be paid for)
Free snorkeling along the shore – snorkeling in a better spot was an additional fee
No stand-up paddle boarding (a bummer)
ID's required to borrow snorkel gear
A delicious lunch!
---
Islas del Rosario | Eco-Hotel Luxury Pros:
You're spending an entire day on the beach (with lounge chairs & umbrellas) from 10 AM to 3 PM
It's not a long (or that bumpy of a) boat ride – approximately 45 minutes each way
Depending on your tour, you can have a party vibe or just chill on the beach
A solid lunch was included
And Eco-Hotel Luxury Cons:
These day trips can be a bit pricey (~$70 USD was the cheapest we found)
Some inclusions ended up being add-ons (ex. snorkeling, cocktails, etc.)
We were told we didn't need ID's but ended up needing them to borrow equipment
Depending on who you book with, they may tell you the wrong departure time
Come to find out from a few angry guests on board, some vendors promote Luxury as an entire day experience from 8 AM to 4 PM. However, boat rides to and from the island were included in this quoted time. So while yes, you essentially have the entire day, you're cut 2-3 hours due to travel. Not a huge deal, but a totally understandable letdown for someone anticipating a long afternoon under the sun.
So what would an overnight trip look like?
Secreto Hostel is a popular choice for solo travelers wanting to spend a few days on the island! Unlike typical dorms, the cost is a bit more since well … you're on Islas del Rosario and not in the middle of a city.
Another option further south of Islas del Rosario is Casa en el Agua (Isla Tintipán). Here, you can spend a few days completely disconnected from society – literally, there's no Wi-Fi.
---
Overall, we stayed positive but … were a bit let down
We were pretty disappointed finding out most of those promised "inclusions" were actually add-ons, but regardless, we made the most of our beach day!
With this in mind, would you still do a day trip or opt for an overnight stay?
And don't forget – there are multiple islands/hostels/tours you can book! Rely on those TripAdvisor reviews and choose the best option for you!