If you're anything like me, I CRAVE adventure. Just about everyone who heard I was going to Bali said I had to do a sunrise hike up Mount Batur (an active volcano on the island of Bali). After seeing pictures of the incredible sunrise from the summit, it wasn't hard to see why this hike is so popular among travelers!
---
But first, how hard is the sunrise hike up Mount Batur volcano?
Hiking Mount Batur isn't for the faint of heart. In total darkness, you hike for two hours (one way) at a steady incline over loose rocks and gravel to an elevation of 5,633 feet. Contrary to many blogs I've come across, this isn't a walk in the park.
The dirt path can be slippery, making it easy to lose balance if you're not careful. Also, as you near the summit, you may have to use your hands to help you climb up onto rocks (I'm also on the shorter side – 5′ 0″ to be exact – so others, luckily, may not have this problem 🙂 ).
When I hiked Mount Batur, I wasn't in my best shape. I hadn't been to a gym in months and only worked out on occasion. Mount Batur isn't the hardest hike I have ever done, but it certainly challenged me.
Ultimately, you know your own body. By no means is this hike easy, however it's totally do-able! If you can manage a steady pace with breaks, you'll be just fine.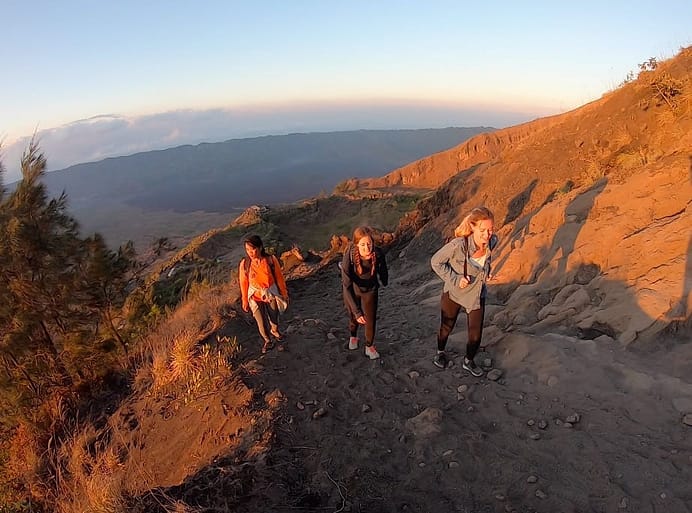 ---
What should I wear on this hike?
You'll want to wear something that's comfortable in both chilly and warm temperatures since the climate varies throughout the hike. I recommend wearing good hiking shoes (I wore tennis shoes and they worked well!), leggings, and a jacket/sweater. Be sure to have space in your backpack to store your extra layers once it's warm.
At the base of the summit, you'll be offered to rent a thick jacket. If you didn't bring your own, then yes, definitely rent one! While you won't need it for the bulk of the hike, you will at the start, and at the summit of Mount Batur (the summit is windy!).
If your tour includes the Batur Natural Hot Spring at the end, don't forget a swimsuit (towels, a locker, and tickets are included)!
One last thing … take it from me and DO NOT wear white!
---
What should I pack for hiking Mount Batur?
Just as you would any other hike, bring along a small backpack with extra water, snacks, and a camera. Some visitors wear a headlamp to free their arms, making climbing and photo ops easier, but that's totally up to you. Upon arrival, your tour guide will hand out water and a flashlight, and then shortly after sunrise, you'll be provided a light snack (usually boiled eggs and bread).
---
Can I hike Mount Batur solo? Or do I have to join a tour?
Everyone is required to hike Mount Batur with a guide; you can't access it on your own.
Several tours are offered between $40-$70 USD. Each tour includes pick-up/dropoff (from various locations around Bali), breakfast, flashlights, a light snack, water, and a guide to lead you up Mount Batur. The tour I did also included a visit to the Batur Natural Hot Spring following the hike.
Mount Batur Sunrise Trekking is the most popular tour, but there are numerous to choose from! The difference in price comes down to add-ons following the hike. Some add-ons include a stop at the Luwak Coffee Plantation, the Batur Natural Hot Spring, or at a lunch buffet. No tour is better than the other, so the way you want to complete your Mount Batur sunrise hike is entirely up to you!
---
What should I expect on a hike up Mount Batur?
If you're staying in Ubud, pick-ups are usually around 1:30 AM. If you're further from Ubud, expect an earlier pick-up time (around midnight). From Ubud, the drive is about an hour to the start of Mount Batur's sunrise hike.
Around 40 minutes in, you'll stop alongside other hikers for a light crepe breakfast with tea, and last minute bathroom breaks. Then, it's another 20 minutes until you can finally begin your early morning ascent up Mount Batur.
Upon arrival, you'll be greeted by your personal tour guide with flashlights and water. As mentioned earlier, this is where you can rent a jacket.
Once everyone's ready to go, the guide will lead your ascent up Mount Batur volcano. Our guide was SO sweet, always asking if we needed help and offering a hand. At one point, we passed a tomato garden, and she picked a few for us to try (I kid you not – this was one of the freshest, tastiest tomatoes I've ever had).
Although it may not seem this way at first, you'll notice A LOT of people do the sunrise hike up Mount Batur everyday. As you get closer to the summit, you'll see everyone's flashlight lit up, and that's when you can get a grasp of how many people are actually headed up the volcano.
Just as you reach the summit, the sun will make its first appearance, rising between 5:00 and 5:30 AM. Most travelers finish their hike at the first stop, making it the most crowded. But for those travelers wanting an extra taste of Mount Batur, you can hike just a few more minutes to get to an even higher point that showcases a complete 360-view. PLUS you'll see some monkeys!
At the summit, you're free to spend an hour or so enjoying the sunrise and wandering around the peak. Be proud of yourself! The hike isn't easy, but the reward of admiring the sunrise from atop is SO worth it!
Before you descend, your tour guide will offer another light snack, typically bread and boiled eggs.
Surprisingly, the descent down Mount Batur was just as long as hiking up. Remember when I said this hike can get crowded? Everyone heads down around the same time, creating a long single file line all the way down. Because of the loose dirt and gravel, there were several instances where we came to a complete stop waiting for others to carefully reach a stable point on the path (but we took advantage of this by squeezing in many more pics!).
Once you reach the bottom, CELEBRATE! You conquered the sunrise hike up Mount Batur volcano in Bali! If your tour includes add-ons, you'll head off to the Luwak Coffee Plantation, lunch, or the Batur Natural Hot Spring. Since you're already out, why not throw in a little extra adventure?
Our driver took us 15 minutes further down the road to the Batur Natural Hot Spring. This option was SO worth it! After a long, exhausting morning, you're sweaty, hot, and dirty, and all you want is to rinse off. Batur Natural Hot Spring was so soothing for our muscles and felt incredibly refreshing in that crisp morning air. Definitely try to score a spot under one of the water spouts – it feels like a gentle scalp massage.
With this option, you return to Ubud between 10:00 and 11:00 AM. Can you believe it'd still be morning?!
---
Have you hiked Mount Batur?? I want to hear all about it!
Like what you read? Pin it for later!