Thinking of teaching English in Thailand? Hi – former teacher here and I've got you covered with this step-by-step guide full of tips, tricks, and recommendations to help you get started with ease! Keep on reading to find out more!
General requirements for teaching English abroad
While each school asks for different qualifications, these are the basic requirements you'll need to teach in Thailand.
Be a native English speaker
Hold a Bachelor's degree or higher (some schools make exceptions to this!)
Receive a TEFL certificate of 150 hours (not always required, but

strongly

recommended!)
What is a TEFL certificate?
A TEFL certificate (Teaching English as a Foreign Language) is an internationally recognized qualification most jobs require from foreign teachers. Although it's not required by every school, it opens doors for SO many more teaching opportunities!
With a TEFL certificate, you will:
Stand out to employers (showing you're prepared to teach English abroad)
Have a refreshed understanding of English grammar rules
Learn techniques for teaching in a foreign classroom (lesson planning, effective teaching strategies, and classroom management)
Be introduced to cultural differences in the education system
Learn tips that work best for your students' grade level and English proficiency
Be able to identify learning styles and appeal to each
Earn a higher monthly salary
TEFL courses range between $150 to upwards of $1500. Check out this article comparing the most popular courses out there to find which one is right for you!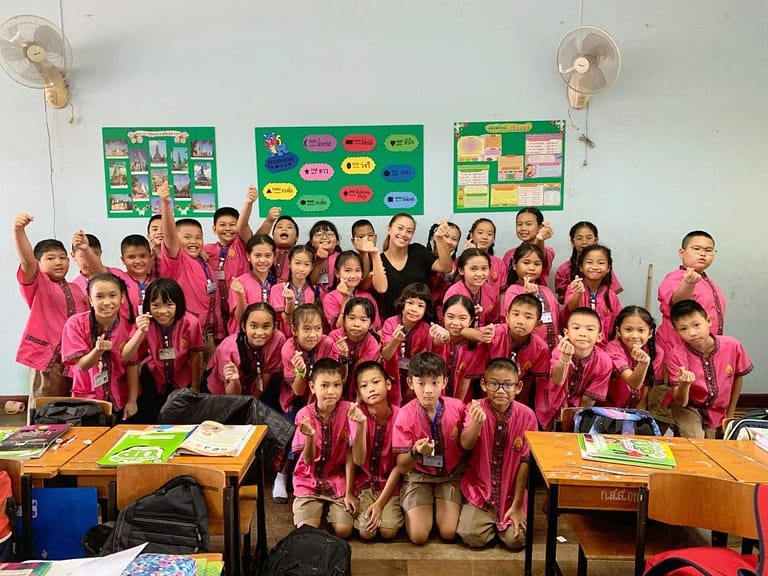 ---
Where can I find teaching jobs?
Teaching jobs in Thailand are most popularly found through programs (such as CIEE/OEG and Greenheart Travel) and Ajarn. Each has its benefits, but ultimately the decision on securing a job comes down to what you're looking for.
Pros and cons of teaching through a program
Pros:
Guidance through the entire process (from sorting paperwork to arriving in Thailand)
Assistance with the visa process
Guaranteed placement
Orientation to ease your transition into Thai culture
Schools secure an apartment and cover your rent
Cons:
Can be very expensive!
The program/school may not cover your flight
You can't switch schools once assigned
Underpaid (a portion of your pay goes to the program)
Lack of communication once you leave orientation and start teaching
Pros and cons of finding work through a job site
Pros:
Much higher pay (upwards of 20,000 baht extra a month)
Freedom to pick your school
Significantly cheaper than going through a program
The school may cover your flight into Thailand
Schools will help you find an apartment
Cons:
Schools often prefer teachers already in Thailand
Schools will not cover rent
Broken contracts often result in a fine
May have limited guidance on required documents and visas (school dependent)
Longer contract periods (1-2 years minimum)
---
My experience teaching in Thailand (broken down by cost!)
If I'm being completely honest, I had no idea you could teach English in Thailand without a program. Regardless, I'm glad I did; I wasn't comfortable moving to Thailand entirely on my own. I felt much better knowing I'd have a guaranteed placement and a seamless process to obtain my required documents and visa. So to me, the price of a program was worth it.
Disclaimer: I saved up for a LONG time to afford the big move!
Program fee (year long contract + visa assistance + full coverage of visa processing + international accident and sickness insurance): $1950 USD
TEFL Certificate: $1100 USD
Flight (one way): $520 USD
Here's a breakdown of my basic living expenses:
Rent: 3000 THB ($100 USD) covered by the school
Utilities: usually around 2000 THB ($60 USD)
Yearlong phone plan (20 GB/month): 2500 THB ($80 USD)
Monthly salary: 30,000 THB ($945 USD)
Meals: 20-200 THB ($0.63-$6 USD)
Toiletries (shampoo, conditioner, body wash, toothpaste, toothbrush, facial soap, lotion, hand soap, toilet paper, paper towels, disinfecting wipes): around 2000 THB altogether ($80 USD)
Apartment items (laundry basket, laundry clips, hangers, toothbrush holder, towels): around 500 THB altogether ($15 USD)
Laundry (detergent and fabric softener): 200 THB for both ($6)
Through our program, the schools provided fully furnished apartments that included (most typically): a blanket, one set of bed sheets, pillows, a refrigerator, wardrobe, vanity, and outdoor drying rack.
---
If I could go back in time and tell myself what I knew now, I'd say …
Don't get a TEFL certificate OR find a cheaper TEFL course. If you're teaching for a year or less (through a program), TEFL may not be worth the investment. With TEFL, you will be offered a higher pay, but it doesn't balance itself out in the end.

Teach through a program for a semester, and then use Ajarn. To me, going through a program was worth it. They got me to Thailand, ultimately saving me the hassle of figuring it out on my own. Finding a job through Ajarn for the second semester would've been ideal since 1) I was already living in Thailand 2) had the required documents to secure a job 3) Had teaching experience 4) could negotiate a higher pay and 5) had the freedom to choose a new location.

Start a side hustle. Teaching 2-3 classes a day gave me SO much free time! I wish I utilized it to start my blog sooner or teach English online. Having that second stream of income would've been nice!
---
Ultimately, teaching in Thailand was well worth the experience! This gave me a good amount of time to immerse myself in a new culture and travel around Southeast Asia. If you're considering teaching abroad – DO IT. Say yes to the opportunity and see where life takes you!
Like what you read? Pin it for later!