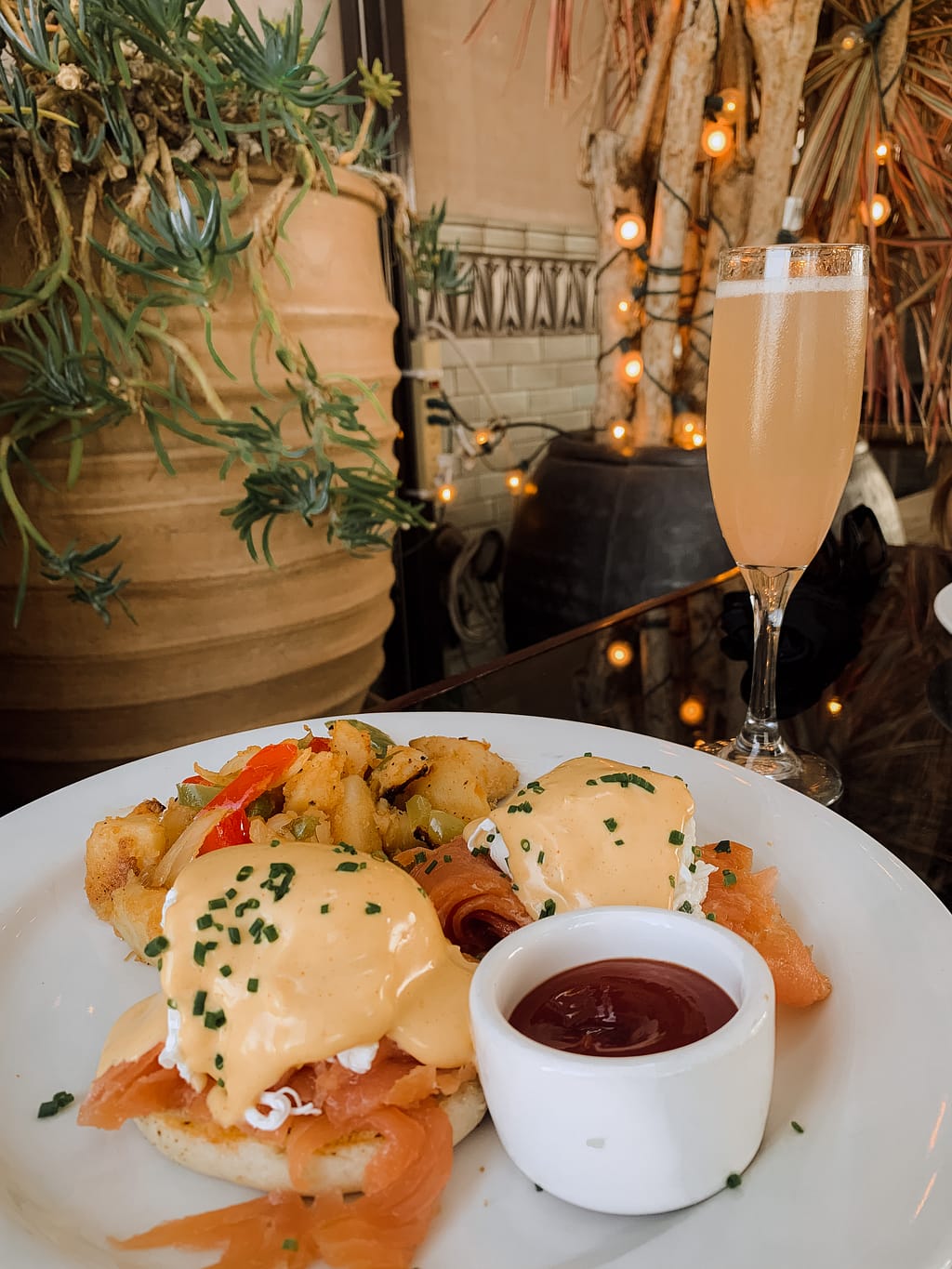 I'd like to think brunch is one of my love languages. In fact, you can bet your bottom dollar I'll be first in line when someone says "brunch" and "LA" in the same sentence.
Home to the west coast's trendiest cafés and restaurants, LA has an incredible selection catering to everyone's taste!
Here are my top recs for the prettiest and tastiest weekend brunch spots in and out of LA!
Perch
Situated in the heart of downtown Los Angeles, Perch is one of the most popular rooftop spots! Perch offers a French-inspired brunch menu paired with handcrafted cocktails. And of course, you can't complain about a view overlooking the city!
Honestly, even though I had a wonderful experience dining at Perch, I don't think it's worth the hype if you don't get a good table. We sat outdoors near the fireplace with an obstructed view of other guests. If you're celebrating something, definitely ask for a table along the outer perimeter!
Things to know
– reservations are a MUST
– happy hour is from 4-6 PM
– entrees are required for each guest
– you must be 21+ to place a reservation past 8 PM
– the full party must be present in order to be seated
– all guests 12+ years old must provide proof of vaccination for indoor seating
– meals typically range from $16 to $23 USD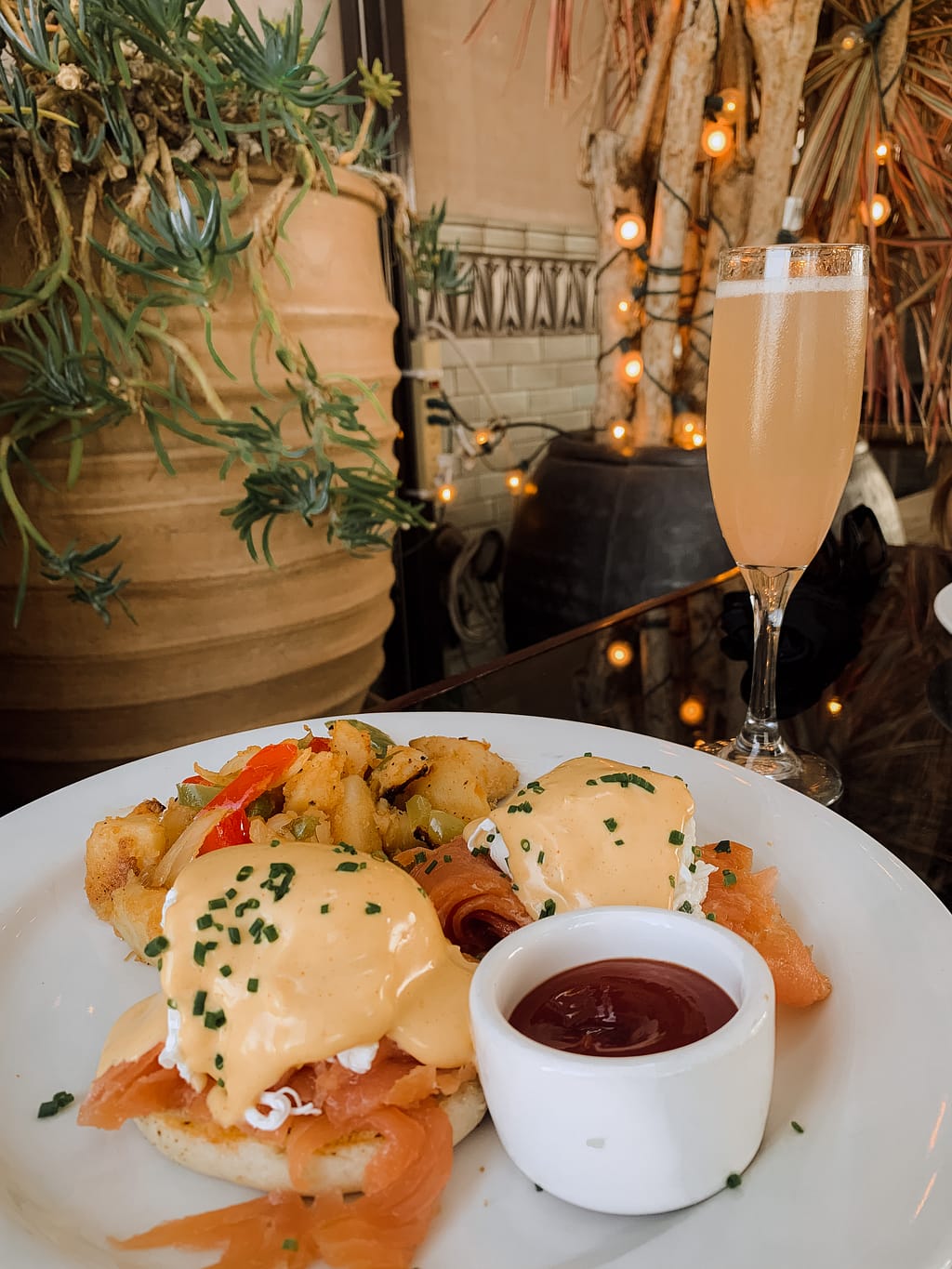 Address
448 S Hill St., Los Angeles, CA 90013
Hours (brunch): 10 AM – 4 PM
---
Urth Caffe
Some people say Urth is overrated, but I say it's NOT.
I've been numerous times and haven't once been disappointed (my personal favorite is eggs salmone)! If you're into organic and trendy brunch eats such as brioche french toast, then this is the spot for you! Urth has 10 locations all around Los Angeles and Orange County (West Hollywood, Downtown LA, South Bay, Beverly Hills, Santa Monica, Orange, Laguna Beach, Melrose, Pasadena, LAX) but one of my favorites sits right along the Pacific Coast Highway in Laguna Beach.
Things to know
– the line to order will be LONG (~30 minutes)
– seating is first-come, first-serve
– they offer gluten-free, vegetarian, and vegan-friendly options
– meals typically range from $13 to $18 USD
Laguna Beach Address
308 N Pacific Coast Highway, Laguna Beach, CA 92651
Hours: 7 AM – 10 PM
---
The Butcher, The Baker, The Cappuccino Maker
The Butcher, The Baker, The Cappuccino Maker (BBCM) offers exactly as its name says; a European-influenced cuisine, freshly baked pastries, wine, and artisan lattes (no literally – each colorburst latte ($18) is delicately painted by hand)! While they may not serve bottomless mimosas, be sure to try out their mimosa flight!
BBCM accepts reservations and walk-ins, however, proof of vaccination is required to sit on the outdoor patio. Unfortunately, we forgot to bring our vaccination cards but were able to sit indoors (much less aesthetic – outdoors is where you want to be!).
The service was BEYOND what you'd expect! Even though we didn't get to get our Instagram pictures outside LOL it was still definitely worth trying!
Things to know
– proof of vaccination is required for patio seating
– reservations aren't required, but are highly recommended!
– each table has a limit of 90 minutes
– prices range from $10 to $30 USD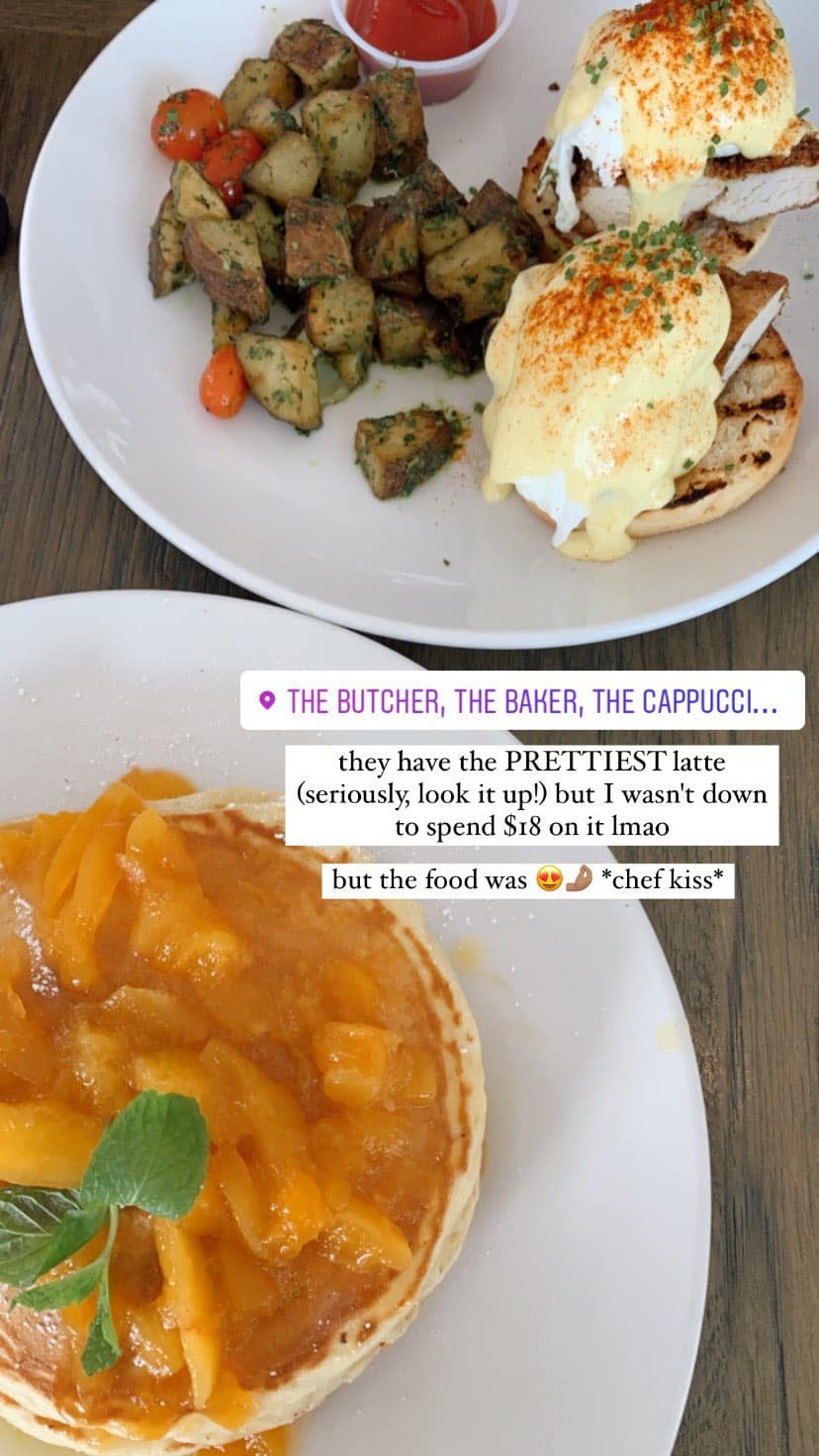 Address
8653 W Sunset Blvd., West Hollywood, CA 90069
Hours: 8 AM – 5 PM
---
Great White
Spending the morning in Venice Beach? Just across the infamous "Venice" sign is Great White serving up American brunch classics with a Southern California twist.
Their minimalist aesthetic is what really caught my eye! Plus, their food is so beautifully crafted that you'll HAVE to take some Instagram pics.
We went around 3 PM on a weekday and it was pretty busy (the service was a bit slow and we were forgotten a few times). Otherwise, their acai bowl exceeded my expectations! Not only was it almost too pretty to eat, but it was so refreshing!
Things to know
– breakfast is served until 3 PM
– walk-ins are taken for breakfast and lunch; reservations start at 4 PM for dinner
– there's a 90-minute dining limit
– cash is not accepted
– masks are required to enter
– prices average from $15 to $25 USD
Address
1604 Pacific Ave., Venice, CA 90291
Hours: 8 AM – 10 PM
---
The Butcher's Daughter
Don't mistake this for The Butcher, The Baker, The Cappucino Maker! The Butcher's Daughter, located along Abbott Kinney Blvd. (Venice's hotspot for shopping and the trendiest eateries!) offers plant-based takes on your favorite meals, such as pad Thai and Italian pizza.
Proof of vaccinations are required for indoor seating, but they also offer outdoor dining. We sat at the bar and were in for a treat! The bartender was friendly and offered some insight into his favorites. In my opinion, it was a little pricey for what we were getting, however, the food was really good!
Things to know
– proof of vaccination is required for indoor dining
– their menu is 100% vegetarian
– breakfast is served until 4 PM
– it's not the most expansive brunch menu, but they've got good options!
– prices range from $14 to $20
Address
1205 Abbot Kinney Blvd., Venice, CA 90291
Hours: 8 AM – 10 PM
---
There are MANY more brunch spots in and out of Los Angeles, but for now, these are my top picks! Let me know what other eateries you recommend – as I said before, brunch is my love language!
Be sure to save this for your next brunch trip!