Two words: THAI FOOD. So spicy, yet so good and always served hot & fresh. Before landing in Bangkok, familiarize yourself with some Thai phrases to ease the anxiety and communication barrier when ordering street food or treating yourself at a restaurant.
Especially as a traveler on a budget (where most of your eating will be street food), these words and phrases will certainly come in handy!
Want to learn more Thai? Click here for basic Thai phrases and numbers!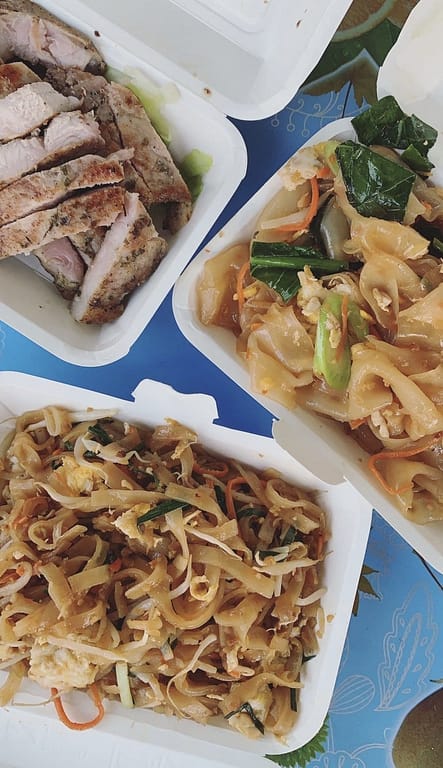 ---
Before we get started … a few notes about Thai language!
Kha (kahw) and Khrab (krawb) not only define the speakers' gender (kha for female and khrab for male), but they also add respect to sentences. The longer they're drawn out, the more respectful your sentence is. Be sure to use them accordingly to social status! The higher a person's status, the longer kha and khrab should be drawn out.

Tones create ALL the difference in Thai language. You'll find that many words are spelt the exact same, but are pronounced in a wide variety of tones. Even the slightest change can create a COMPLETELY different meaning. Don't let this scare you! Just be mindful – this is a common cause of miscommunication.

Don't let the letter 'H' fool you! An 'H' adds airiness to words, unlike its usage in English. For instance, Koh Phi Phi and Phuket (two of Thailand's most popular destinations) are commonly mispronounced as Koh Fee Fee and Foo-ket. They're actually pronounced Koh-Pee-Pee and Poo-ket.

However, there is an exception to the letter 'H'! When paired with a 'C', it makes a "sh" sound. So if mentioning Chiang May, you'll notice Thai's pronounce it, "Shang Mai".

Roll your "R's"! Just as you would in Spanish or Japanese, be sure to roll your "R's" in the Thai language.
Useful Thai phrases for ordering food
Mai sai prick – Without spice
Mai pet – No spice (some places may interpret this as "less spice")
Nit noi – Little bit
Mai waan – No sugar (you'll find that many dishes and drinks contain lots of added sugar)
Waan noi – A little sugar
Aroy – Delicious
Check bin – May I have the check? (this phrase uses the actual English word "check" – are you paying attention to that tricky 'H'?)
If you're visiting the more "touristy" spots in Thailand, you'll find that the food is toned down with less spice than it'd normally have (although it's still pretty spicy!)
Expand your Thai food vocabulary
Kai – Egg
Kai tot – Omelet
Gai – Chicken
Plah – Fish
Too-a – Nuts
Nua – Beef
Kung – Shrimp
Kaeng – Curry
Khao Pad – Fried rice
Khao – Rice
Moo – Pork
Talay – Seafood
Pak – Vegetables
Thai vocabulary for drinks
Nam – Water
Nom – Milk
Gai fae (yen/ron) – Coffee (iced/hot)
Cha (yen/ron) – Tea (iced/hot)
Na pon-la-mai – Fruit juice
Khai mook – Boba pearls
Ordering with dietary restrictions
Chan gin jey (kha/khrab) – I am vegan
Chan gin mangsawerat (kha/khrab) – I am vegetarian
Sai pak yaang deaw (kha/khrab) – Only with vegetables
Mai sai (food) – No/Without (food)
---
Like what you read? Pin it for later!