As young children, we're introduced to the bombings of Hiroshima and Nagasaki. I remember reading Sadako and the Thousand Paper Cranes in elementary school and hoping for her recovery from leukemia. In high school, we went further in-depth behind the events leading up to the horrific day.
However, simply reading about these events pales in comparison to physically seeing the remnants of lingering devastation firsthand.
Overwhelmed with sorrow, grief, and humility, visiting Hiroshima as a fifth-generation Japanese American truly left an imprint on my identity. Here's what it was like.
---
Although I'm ethnically diverse …
I strongly identify with my Japanese culture. I grew up with my Japanese grandparents, cousins, aunties, and uncles all within close proximity. We've always embraced our Japanese culture, from devouring fresh manju and preparing mochi on New Year's Eve, to attending Obon dances (to remember our ancestors), and even learning the Japanese language (which I'm terrible at by the way).
Japan has been at the top of my bucket list ever since I arrived in Asia. In December 2019, I spent a week exploring Japan on my own. As you can imagine, Hiroshima easily made it onto the itinerary. To me, Hiroshima is much more than a "historical site" – in fact, labeling it as such just doesn't do it justice.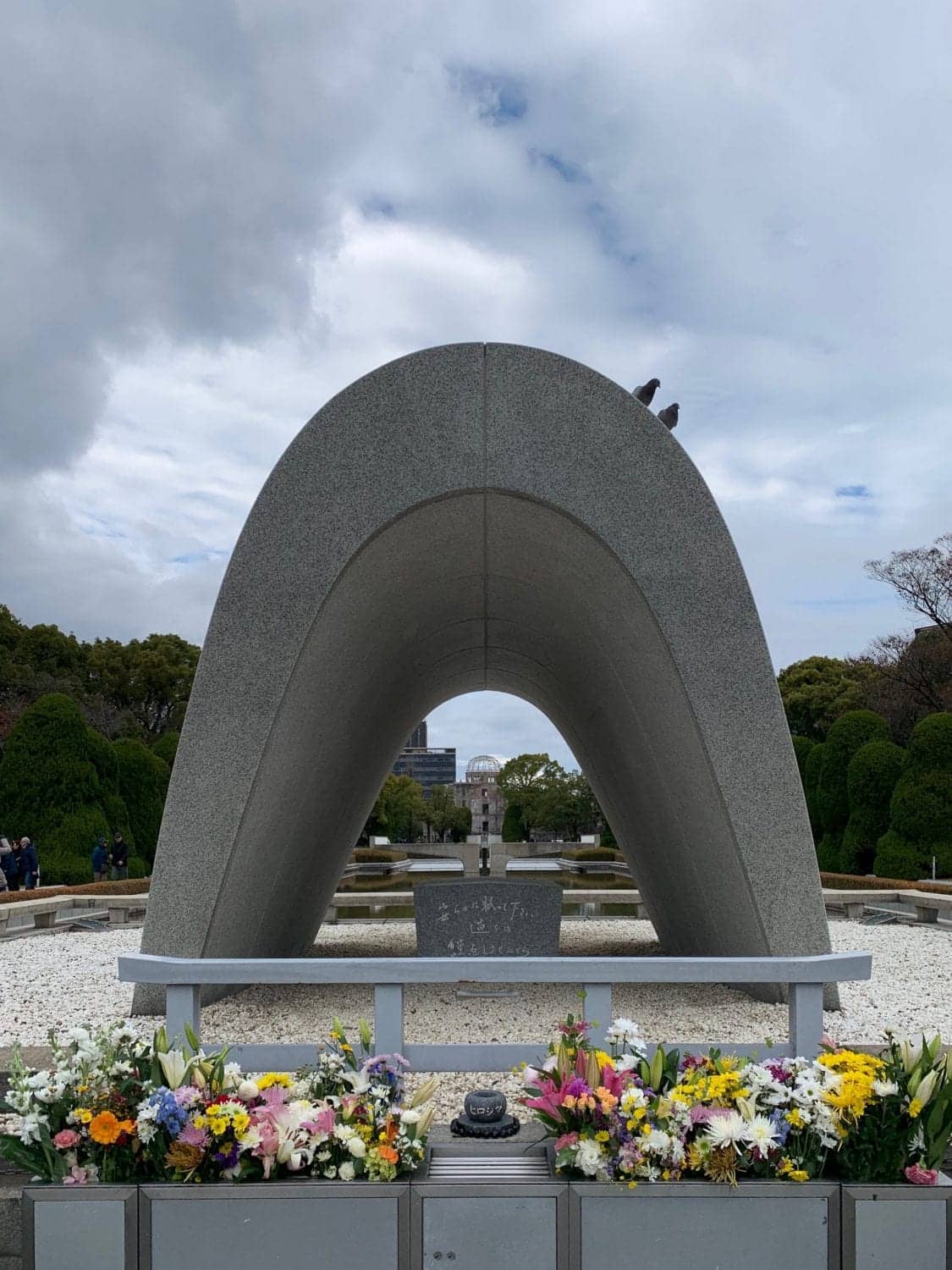 Japan's history is integrated into the narrative of many local families here in Hawaii. A family friend of my mother's miraculously survived the bombing of Hiroshima. My grandparents experienced the tragedy of Pearl Harbor firsthand as Japanese Americans in Hawaii (but that's a post for another day). I just couldn't travel to Japan without paying a visit to Hiroshima.
Everywhere I went, I could feel the history lingering beneath the city streets. There were dozens of trees marked as "surviving the atomic bomb", along with ruins that serve as a haunting reminder of nuclear destruction.
I walked around Shukkeien, a garden dating back to the 16th century. Amongst the scenery and tranquility was a little memorial decorated with paper cranes.
Paper cranes are often seen around Hiroshima to remember the innocent lives lost on August 6, 1945. Legend says, if you fold 1000 paper cranes, you'll have a wish come true. This tradition is still practiced in Japanese culture, often in weddings for good luck. But in Hiroshima, this stems from Sadako Sasaki, a young girl who was on a mission to fold 1000 cranes, who later succumbed to leukemia following the bombings.
---
However, what really struck me was visiting the Hiroshima Museum.
If you know me, you'd know how much I HATE museums. I find them so boring and would much rather watch a documentary in the comfort of my home. Perhaps it's intuition that drew me to this museum because WOW – it was powerful. My biggest regret was not purchasing an audio tour; I can only imagine how much more impactful that would've made the experience.
When I told my mom I had visited, she said how badly she wanted to visit the year prior. However, she decided otherwise because she knew it'd be a lot for my grandma to handle. When I later returned home and showed them pictures of the museum, I could hear the heartbreak in my grandma's voice.
The museum is heavy with emotion. You're taken on a chronological timeline from the peaceful morning to the devastating events that later followed. The entire museum is full of destroyed belongings stained with agony.
My heart ached as I read the anecdotes that went along with each object. Stories of parents who found their child's lunch boxes, but not their child. Stories of how their children were so excited to eat musubis for lunch but never got the chance to. Stories of people screaming for help as the black rain fell from the dark treacherous sky.
There were melted lunchboxes, pieces of collapsed structures, tattered clothing, medicine kits, shoes, bicycles, coins – you name it. As a Japanese American, I had no words. I felt nothing but guilt and shame, and I can only imagine what my great-grandparents felt as immigrants in Hawaii during this.
As I walked past the remnants, I remembered overhearing a girl in college say how she thought the bombing of Hiroshima was a good thing because it ended the war. My heart broke as that moment replayed in my mind while I read about some of their last moments screaming, "I don't care if I die – I just want water!".
Knowing that was the last time many saw their daughters, sons, parents, grandparents, spouses, and pets is horrifying. I thought of my friends whose families immigrated from Hiroshima. In the early 1900s, there was minimal communication with friends and family who stayed back in Japan. I thought of how my friends' families may never know if their loved ones survived that day and if they did, where they are now. I also wondered if my own relatives in Japan happened to be in Hiroshima that day.
Being what felt like the only Japanese American in the museum, I was horrified. America is the country I was born and raised in, where I grew up learning to respect and appreciate my Japanese heritage, where I was told to be proud of both my Japanese and American identities – but how could I be proud now?
---
My time at the museum ended with …
a walk along a gallery illustrating the agony of that day. Sometimes words can't quite depict the emotions of an event as well as art. Every drawing was intense, some more than others. As I read each blurb describing the events of each picture, I began to tear. Those images spoke volumes. Anytime I'm reminded of them, my chest tightens and I feel eerie.
---
What really astonished me was …
how Hiroshima, both the museum and the city, focuses on moving forward and not repeating history. Inside the museum's entrance is a clock counting the days since the nuclear bombing of Hiroshima and days since the last nuclear test.
Nowhere in the museum did they speak poorly of other countries when they absolutely had (and still have) every right to. There were no signs expressing the immense anger they must've had towards America. In fact, the only times America was mentioned was when sharing chronological details of that horrific day. In every exhibit, you left with the understanding that all they wanted and hoped for moving forward was peace and eradicating nuclear destruction.
Cultivating peace extended outside the museum walls and into the city as a whole. Everywhere I went, "peace" was mentioned whether it was the name of a park, shared on a souvenir (literally every souvenir had "peace"), or commemorated with memorials.
Within Hiroshima Peace Memorial Park were: the Clock Tower of Peace, Children's Peace Monument, National Peace Memorial Hall, the Flame of Peace, the Pond of Peace, and Gates of Peace. Even at the Atomic Bomb Dome, where destructive history echoes loud and clear, the message of maintaining peace moving forward was eminent.
Visiting Hiroshima is unlike anything you'd read from a textbook. And as a (half) Japanese American, I left not fully understanding my emotions of sorrow, shame, admiration, and confusion. Naturally I was ashamed of what America had done, and will never fully understand the agonizing destruction, both physical and emotional, that still lingers Hiroshima today. Yet, I admire the perpetuation of hope and peace, not just in Hiroshima, but in the Japanese culture as well. Confusion because well … there's still so much to process.
---
If you haven't already visited, I HIGHLY recommend spending a few days there! Soak it all in, and spend time processing the event and how we can continue perpetuating peace.
Like what you read? Pin it for later!