This post may contain affiliate links, which means I'll receive a commission if you purchase through my link, at no extra cost to you. Please read full disclosure here.
One of the most iconic views in all of Bali takes on the shape of a dinosaur and goes by the nicknames: Cap de T-Rex, T-Rex Bay, and Dinosaur Hat Beach. Lookup a photo of Kelingking Beach – can you see it too?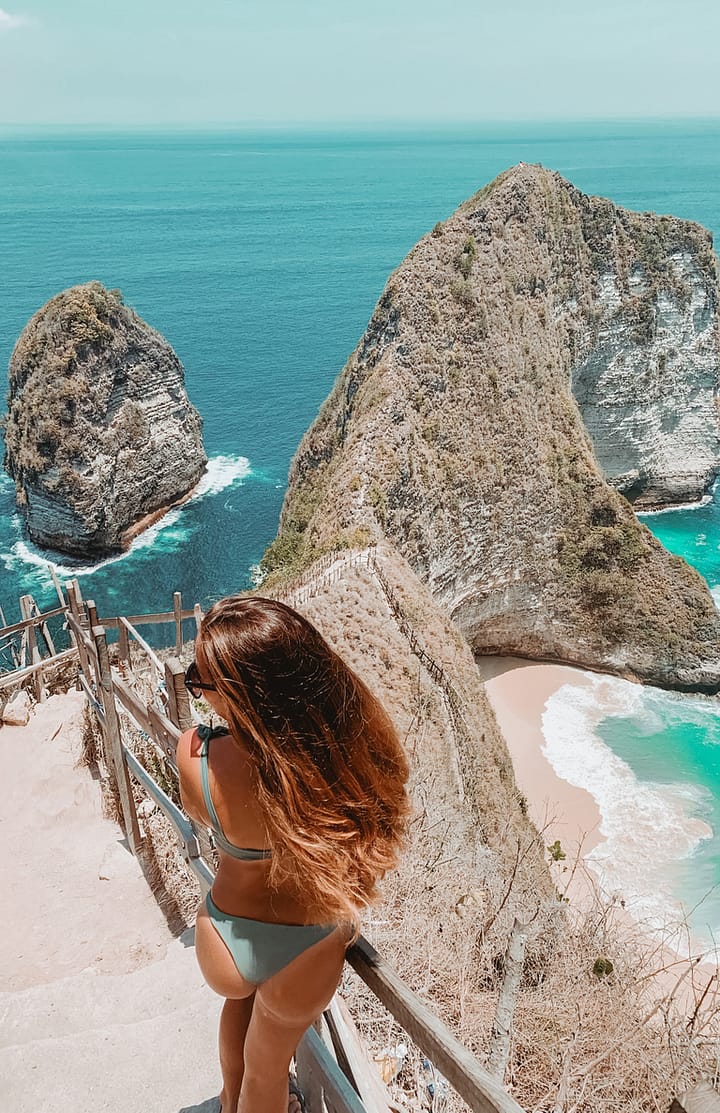 Kelingking Beach is arguably one of the most popular stops on Nusa Penida (a small island east of Bali)! The overlook offers the most enchanting views of the island's coastline, where steep cliffs are greeted by crystal blue water.
A trip to Bali just isn't complete without paying a visit here, and if you aren't convinced, check out this post on why you need to visit Nusa Penida Island. This overlook was hands down one of the most captivating places I'd seen in all of Bali, BUT there is so much I hadn't known prior to visiting that honestly could have cost my life.
As an ambitious traveler, it's easy to get caught up in the thrill of exploring such an incredible spot. However, safety is especially important here, where there's more to this beach than meets the eye.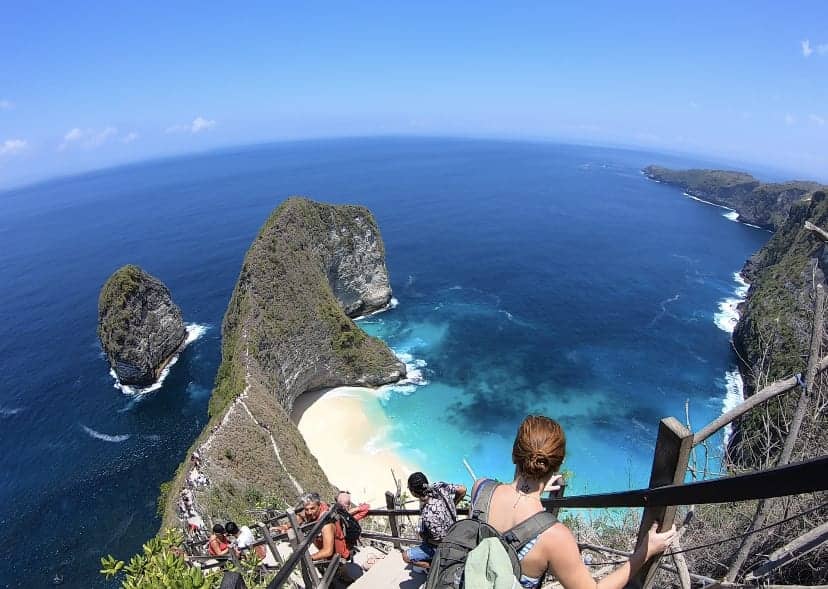 ---
Day trips to Nusa Penida are popular for most travelers, however, I recommend staying at least 3-4 days. Kelingking beach, or any place on Nusa Penida for that matter, is not something you want to rush. Nusa Penida is an insanely beautiful island and once you're there, you'll want to soak in every moment.
GETTING TO NUSA PENIDA
Nusa Penida is a quick 30-minute boat ride out of Sanur Beach Harbour. Tickets, which can be purchased the day of, are fairly inexpensive costing around 150,000 IDR ($11 USD). This harbor is unlike others I've come across, meaning there's no dock. You walk onto the beach, drop off your luggage, remove your footwear, and climb onto the boat. Once you arrive at Nusa Penida, you climb off and onto the sand, and then wait for your luggage to be carried out.
---
GETTING TO KELINGKING BEACH (are the road conditions safe?)
Kelingking Beach is southwest of the island; about a 30-minute drive from Toya Pakeh Harbour.
Upon arrival at the harbor, you can either rent a motorbike or travel by taxi. Considering you'll have your luggage, definitely take a taxi or Grab (Southeast Asia's equivalent to Uber) to your hostel/bungalow.
Since I was traveling with a small suitcase (learn from my mistakes – travel with a backpack instead!), riding a motorbike wouldn't have worked out. Besides, I'd never driven a motorbike, so this definitely wasn't the time to try it out. I felt much safer being driven by a local who was familiar with the roads.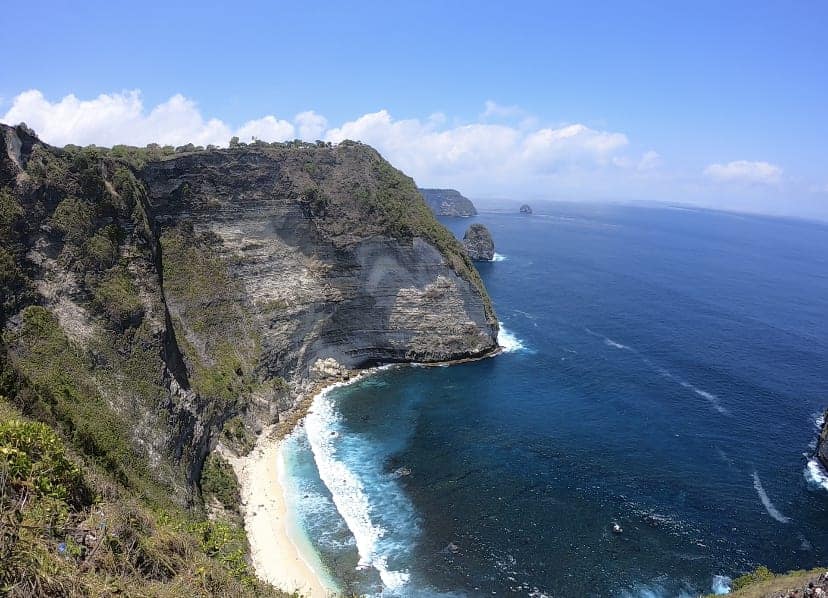 Forewarning: the road conditions are rough. Only some roads are paved, while the rest are dirt (get ready for a bumpy ride). The roads are also relatively windy, and narrow (often against cliffs without guardrails).
---
WHAT SHOULD I BRING TO KELINGKING BEACH?
The only essentials you really need are water, sunscreen, and a camera. Your trip to Kelingking Beach can last anywhere from 10 minutes to over 3 hours, depending on if you just want some photos, or are up for the intense hike down. If you're planning on hiking, definitely wear closed-toe shoes! I wore sandals, which was a HUGE mistake!
Above all, have multiple bottles of water! Water and other refreshments can be purchased at the bottom of Kelingking beach, but be sure to have several on hand. The hike down is INTENSE – it's steep, hot, and offers no shade.
If you decide to head down to the beach, bring a light sarong/wrap to use in place of a towel. This way, you can save both space and weight in your bag.
---
THE VIEW AT KELINGKING BEACH
Nusa Penida's views do not disappoint! There is plenty of space along the top to soak in the best views of Kelingking Beach. So don't worry – you can definitely snap several pictures without others in the way!
Up here, you'll get a perfectly clear overview of Cap de T-Rex, where steep cliffs form the shape of a dinosaur wearing a hat. As soon as I walked up to the bamboo railing, I was speechless! The water was SO blue! Pictures don't do it justice.
---
CAN YOU GET DOWN TO THE BEACH?
Yes. BUT BE CAREFUL. The hike is longer and much more challenging than it appears; your safety is dependent solely on a bamboo railing. In fact, there's no railing at many points, forcing you to grip tightly to boulders and hold a steady balance. The hike is steep and often feels as though you're scaling down at a 90-degree angle.
With minimal stops, the way down took about an hour to reach, however, the way back up took well over an hour.
---
DOWN AT THE BEACH
Kelingking beach itself is gorgeous! You're standing on a private little white sand beach engulfed by sky-high cliffs.
When I visited, the water was rough, with a strong current and powerful shore break (I actually got knocked down by a set and was stuck in the whitewash). This beach isn't for novice swimmers – it's so easy to get caught in that current!
---
HIKING KELINGKING BEACH
This is where I almost passed out from dehydration. My friends and I were unaware of how difficult the hike would be and thus didn't carry enough water (in fact, we weren't anticipating a hike – ugh that lack of research!). We visited in the middle of the day and MAN was it crowded! We felt like a bunch of ants in line.
I won't sugarcoat the experience; it was crazy hot and people were cranky.
At times, we were at a standstill letting others pass because of how narrow the path got. When heading back up, I led the line for a bit. People behind yelled at me to keep going every time I let others, who had been waiting, pass by. Another time, someone heading in the opposite direction paused for a moment and asked how close he was to the bottom. Even in that brief moment, those behind me yelled at us to keep moving.
After pushing through about a third of the way back up, I reached a point of exhaustion. I began to lose vision, heard ringing in my ears, felt dizzy, and had a sensation that everything around me was spinning. I was low on water, and still had most of the hike left before reaching the top. If it weren't for other visitors who so graciously shared their water (and one guy that poured some on me), there's just no way I would've made it back.
Reaching that point of physical exhaustion and dehydration in the middle of a cliff was honestly terrifying. I had to mentally stay calm and continuously tell myself that I'd make it back.
Moral of the story – have lots of water, be careful, and know your limits! If you don't think you can handle the hike, stay at the top and admire the view from above.
---
MY OVERALL THOUGHTS OF KELINGKING BEACH?
A visit here is absolutely worth it!! Whether you hike down to the beach or enjoy the dinosaur-shaped cliffs from above, Kelingking Beach is a Bali icon that shouldn't be missed!
Know your limits. As I said earlier, if you aren't comfortable hiking down, don't do it. Even though the beach itself is stunning, it isn't worth risking your safety if you're uncertain or unprepared. Nusa Penida has several other beaches that are just as beautiful and don't require an intense hike to reach (LOL).
And as you plan your upcoming trip to Bali, do yourself a favor and enjoy Spring in Asia by following this list of places to visit (alongside Bali) in March and April!
---
Like what you read? Pin it for later!
↓↓ Read more about Bali ↓↓
The Prettiest Hike in Bali! I Present to You, Mount Batur
Your All-Inclusive Guide to Bali's Monkey Forest